Win The Ultimate Getaway To See Elton John's 'The Million Dollar Piano' In Las Vegas
http://www.prweb.com/releases/2011/10/prweb8873569.htm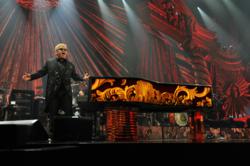 Yamaha Entertainment Group of America will give away a total of 31 prizes to see the Piano Man's new show at The Colosseum at Caesars Palace
Nashville (PRWEB) October 13, 2011
Legendary pop icon Elton John has returned to Las Vegas with an equally iconic piano and show: The Million Dollar Piano, and Yamaha Entertainment Group of America is giving fans a chance to win the ultimate getaway to see it all from the front row!
One grand prizewinner will receive two front row tickets to The Million Dollar Piano at The Colosseum at Caesars Palace in Las Vegas, a guided behind-the-scenes tour at the concert, round trip airfare for two, limousine transportation to and from the airport, and three nights of standard hotel accommodations.
Five second-place winners will receive two tickets to the show and two nights at Caesars Palace, and 25 third place winners will receive two tickets to the show. Bonus entries can be earned by promoting the sweepstakes via Facebook and/or Twitter, visiting participating authorized Yamaha dealer locations and scanning the QR code on the sweepstakes poster with your smart phone, or by mail.
It's easy to enter and no purchase is necessary. For additional details, visit http://4wrd.it/EltonGetaway. The sweepstakes ends Dec. 15, 2011 at 11:59 p.m. PST. Winners will be chosen at random on or around Dec. 22. Participants must be 21 and over. Please see official rules for full details.
The Million Dollar Piano is based on a state-of-the-art million-dollar instrument hand crafted by Yamaha. Four years in the making, Yamaha Entertainment Group of America and the designers and engineers from the Yamaha Design Lab in Hamamatsu, Japan worked with Elton to bring his vision to life. The piano encompasses a nine-foot, highly modified, hand assembled grand piano, surrounded in a high-grade acrylic body lined in 68 LED video screens and lights. The result is a spectacular, highly visionary work of art that can respond to Elton's touch and can be programmed by Elton's world-class video experts to transform the piano in an ever-changing array of images, patterns, lights and colors.
The Million Dollar Piano debuted Sept. 28, 2011 to standing ovations, as part of a three-year residency at The Colosseum. Tickets may be purchased in person at The Colosseum at Caesars Palace Box Office, open daily from 10 a.m. to 10 p.m. PST, as well as online at TicketMaster.com, keyword "Elton John." For additional show and ticket information, visit CaesarsPalace.com.
For more information on Yamaha Entertainment Group, visit http://www.yamahaentertainmentgroup.com.
About Yamaha Entertainment Group
Yamaha Entertainment Group is a boutique, one-stop shop, record label developed to be the champion of the musician with the backing power of the largest music manufacturer in the world. YEG is branding, promotion, concert production, content development, product placement, tour support, piano logistics and artist relations, all rolled into one. Home to more than 3,600 talented artists, YEG is responsible for the development and advancement of the Yamaha brand name through numerous artist related activities worldwide.
Elton John: Billy Joel Hates Me At The Moment'
ELTON John admits he's in Billy Joel's bad books.
The legendary Rocket Man hitmaker admits Joel "hates" him for making comments about his alleged alcohol addiction.
Elton recently suggested that Joel needs rehab for a drinking problem which he has suffered from for many years. Joel later brushed off the remarks and insisted that there are no hard feelings between the entertainers.
But Elton admits the two are not on good terms following the incident.
"He hates me at the moment. He sent me a message and he's not happy," he explained.
"I understand that. I'm sorry I had to say it, but I'm saying it because I really want Billy to live a long life and be very happy. That's all it came from. I understand why he's mad at me.
"I'm only trying to help. Maybe I should have done it privately, but I've been so frustrated over the years."
Elton John Says Billy Joel Wants To Punch Him In The Face
February 10th, 2011 3:27pm EST
Elton John
has no regrets about airing his views about
Billy Joel
's sobriety issues in the press, even though his rock pal has made it clear he's far from happy with the Brit for speaking so openly.
The
Rocket Man
, who battled drug and alcohol addictions early on in his career, recently accused his on/off touring partner of "coasting" through rehab treatments and admitted he's upset by Joel's apparent reluctance to get tough with his alleged heavy drinking problems.
In the candid
Rolling Stone
magazine interview, Elton said, "I always say, 'Billy, can't you write another song?' It's either fear or laziness. It upsets me. Billy's a conundrum. We've had so many cancelled tours because of illnesses and various other things, alcoholism... I love you, Billy, and this is tough love. Billy, you have your demons and you're not going to get rid of them at rehab light. You've got to be serious."
Joel issued a statement responding to the claims, brushing off his pal's comments as Elton "
just being Elton
" - but the Brit admits the pair has yet to speak directly because the
Uptown Girl
hit-maker is "not happy" with him.
Opening up on
Today
on Thursday, Elton said, "He hates me at the moment and I understand why. He sent me a message and he's not happy and I understand that."
However, the 63 year old stands by his actions and insists he will take any comeback from Joel "on the chin" - because he's only trying to help.
He continued, "I'm sorry I had to say it, but I'm saying it because I really want Billy to live a long life and be very happy. I understand why he's p**sed with me and I can take that on the chin. Years ago when people tried to tell me, I didn't talk to them for years. Now I look back and they were only trying to help."


"Maybe I should have done it privately, but I've been so frustrated over the years at some of the things. I love the guy... I wanna stress that. He may wanna punch my face in at the moment, but it's OK."
Enlarge this image
Dance
'I'm living Elton John's life,' says Love Lies Bleeding dancer
http://www.theglobeandmail.com/news/arts/theatre/im-living-elton-johns-life-says-love-lies-bleeding-dancer/article2199151/?utm_medium=Feeds%3A%20RSS%2FAtom&utm_source=Home&utm_content=2199151
paula citron
From Thursday's Globe and Mail
Published Thursday, Oct. 13, 2011 6:00AM EDT
Last updated Thursday, Oct. 13, 2011 3:56PM EDT
Tokyo-born Yukichi Hattori is a huge favourite with Alberta Ballet audiences for his formidable speed, crisp attack and virtuoso technique. He may be short, but he is a dynamo on stage.
Hattori, 31, is the lead dancer in Jean Grand-Maître's Love Lies Bleeding, the ballet set to the songs of Sir Elton John and Bernie Taupin. (The ballet tours to Vancouver this week, and to Toronto in November.) He is also a gifted choreographer who is showing work in the Alberta Showcase hosted by Calgary's Fluid Movement Festival on Oct. 22.
Over the Thanksgiving weekend, The Globe reached Hattori in Calgary at 9 in the morning, which he claims is his quiet time. In the background, one could hear his three-year-old daughter Mae, presumably getting ready to interrupt her father's peace and quiet.
How did you get into dance?
I wanted to go on the stage after I saw the musical Annie when I was six. My parents, who were actors, put me in ballet class because dance skills take the longest to develop. They figured that acting and singing could come later. I loved the special treatment I got as the only boy in the class.
How did you get to Hamburg Ballet?
I was 13 when Hamburg Ballet toured Japan. I was cast as a peasant boy in Swan Lake. I could see that the Hamburg dancers' technique was much more advanced over Japanese dancers, so I had to get to Europe. I got a scholarship to the Hamburg Ballet School. When I graduated five years later, I joined the company. I was promoted to soloist in 2004.
Dancers would kill to be in a prestigious company like Hamburg. Why did you leave?
After 12 years, I needed more rigorous eyes on me. They thought they knew me, and what I could do, so I felt that any new skills I developed would be overlooked. I was always going to be a 13-year-old boy.
You got to Alberta Ballet through your wife, Galien Johnston.
We joined Hamburg in the same year, 1999. When we decided to leave, we were looking for a company that could accommodate both of us. She's 5'9" and I'm 5'4". We needed a place that was not obsessed with lines and height. In 2006, Galien was visiting her parents in Edmonton, and took a class with Alberta Ballet. They offered her a contract and also one to me, based on my reputation.
Let's move on to Love Lies Bleeding. What do you think the ballet is about, and what is your role in it?
It's about pop stars and pop culture. I'm living Elton John's life, the public and the private faces, the pleasure and the pain, the conflict and the harmony. The title reflects both his suffering and facing his demons. His soul is opened up through his music.
You are in almost every scene.
It's jam-packed with choreography, and I also go through a lot of emotional highs and lows. I'm completely exhausted at the end of the show, but I reach a state of ecstasy – a runner's high.
I understand that Jean Grand-Maître has reworked the ballet.
It's a lot tighter. A few songs have been shortened, and the transitions have been reworked. He's also beefed up the choreography to reflect the higher level of dancers from two years ago.
Alberta Ballet is becoming known as a company of songbooks.
Ballets set to specific songwriters create excitement. It's about the contemporary arts – living choreographers using the music of people who are alive, sharing stories that are about now. These ballets also open doors to touring in a time of recession. They are part of the art of entertainment. It's not a bad thing to have a ballet that is a commercial success. It's survival over innovation.
This interview has been condensed and edited.
Loves Lies Bleeding tours to Vancouver, Oct. 13-15 and Toronto Nov. 8-13.
Elton John's Music Comes To The Baltimore Symphony Orchestra
October 13, 2011 6:02 PM
http://baltimore.cbslocal.com/2011/10/13/elton-johns-music-comes-to-the-baltimore-symphony-orchestra/
BALTIMORE (WJZ) — It's the music of Elton John like you've never heard before.
The Baltimore Symphony Orchestra kicks off their SuperPops series this weekend with Michael Cavanaugh playing the Rocket Man's greatest hits.
Monique Griego got a glimpse of their rehearsal.
It's "Philadelphia Freedom" with a Charm City twist.
The Baltimore Symphony Orchestra joins Michael Cavanaugh for the music of Elton John and more.
"I get to sing these songs. I love the songs I grew up with," said Cavanaugh.
Cavanaugh, a Broadway star and Grammy nominee, is kicking off the Baltimore Symphony Orchestra SuperPops series this weekend. With his band, he will perform the Rocket Man's greatest hits with the orchestra's help.
Cavanaugh says adding the orchestra to already great songs just takes them to another level.
"We're not changing Elton's music that much, but when you add the Baltimore Symphony behind it it's a whole new experience," said Cavanaugh.
Cavanaugh, who plays the guitar and piano, knows he has some big keys to fill.
"I'm going to be me but I'm going to stay true. I'm going to do songs to their justice as best I can," the musician added.
So whether he's playing "Your Song" or another, Cavanaugh promises even Elton John's most devoted fans won't be disappointed.
"If I don't have them out of their seats by the end, then I feel I haven't done my job," he said.
The music of Elton John and more debuts Thursday night and runs all weekend.
Besides Elton John's hits they also play a variety of other classic songs.
CHOPARD ELTON JOHN WATCH