A Trajetória do cantor Britânico Elton John e seu letrista Bernie Taupin
ao longo de 06 Décadas, através de imagens, áudios, vídeos, textos e animações.
ELTON JOHN BIOGRAFIA CAPÍTULO 016
SURGE DAVEY JOHNSTONE
As letras de Bernie geralmente vinham com uma linha de ação determinada para Elton , quase que impressa nelas.Havia uma seqüência de cenas e imagens contidas nas letras que eram trabalhadas na mente de Elton John de forma a retratar os sentimentos ali retratados. Isso tornava o trabalho dos dois perfeito.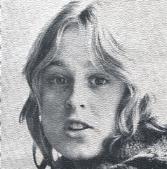 Photo Foto de Maxine Feibelman
O casal foi o primeiro a escutar a canção, quando foram ao apartamento de Elton em visita.



Photo Foto de Maxine Feibelman
Foi uma surpresa para Bernie e principalmente para Maxine que não sabia do teor da canção mas que foi se reconhecendo durante a narrativa da canção TINY DANCER. Primeiro seus olhos eram só para Elton e seus dedos no teclado, depois para Bernie. Ele colocou o dedo indicador sobre os lábios como a dizer que ouvisse a música até o fim.



Photo Foto de Maxine Feibelman e Bernie Taupin
Maxine olhou novamente para Elton que cantou os últimos versos olhando para ela..


Photo Foto de Maxine Feibelman
, em foto recente

A aprovação do casal foi o sinal que Elton desejava.



Elton John leaves the stage at Kooyong Tennis Centre 1971
Os planos de Elton a mudar totalmente sua vida continuavam.



Mudou legalmente seu nome.não se chamava mais Reginald Kenneth Dwght, seu nome no registro de nascimento foi alterado para ELTON HERCULES JOHN, seu nome oficial até hoje.



Outro desses planos foi encontrar uma casa digna de seu futuro brilhante. Com seu advogado procurou nos bairros mais elegantes de Londres e encontrou uma suntuosa mansão que batizou de HERK, uma abreviação de seu nome do meio, agora, HERCULES.




Feliz com a mudança, Elton começou a construir dentro de sua mansão um sonho de anos. Como grande apreciador de arte, levou todos os quadros que não cabiam mais em seu apartamento, além de seus discos, aparelhos de som, jukebox.
BERNIE TAUPIN 1971
Nos estúdios tudo estava também mudando. Se nas entrevistas Elton afirmava que sua carreira seria curta, nos estúdios ele se tornava cada vez mais exigente.
Com o apoio de Paul Buckmaster começaram a preparar os arranjamentos do novo álbum. Em pouco tempo estava tudo pronto para iniciarem as gravações e a banda começou a se entrosar com as novas canções a fim de gravarem nos estúdios TRIDENT.
Entre os diversos profissionais que se juntam para a confecção desse trabalho estava RICK WAKEMAN, muito conhecido na década de 70 no termo que se chamaria ROCK ERUDITO.
Fotos Rick Wakeman
http://pt.wikipedia.org/wiki/Rick_Wakeman
Richard "Rick" Christopher Wakeman (Londres, 18 de maio de 1949) é um tecladista de rock progressivo britânico. Ele é um pianista clássico treinado, e tornou-se bastante famoso por sua virtuosidade. Nos primeiros anos de sua carreira ele foi um pioneiro no uso de teclados eletrônicos e seu nome tornou-se sinônimo de tecladista cercado por uma vasta gama de equipamentos.
Wakeman alcançou a fama em 1970 tocando com a banda The Strawbs, juntando-se ao Yes em 1971. Ele entrou e saiu da banda pelo menos quatro vezes, reflexo de um relacionamento turbulento com o grupo. Em 2002 ele voltou ao Yes pela quinta vez.
Wakeman tem uma carreira solo extremamente longa e prolífica, mas raramente bem-sucedida. Ele também tocou como músico convidado para artistas como Elton John, Lou Reed, David Bowie e Black Sabbath.
Outro rapaz que chamou atenção pelo talento vinha de um grupo chamado MAGNA CARTA, chamado de DAVEY JOHNSTONE.
Davey aos sete anos aprendeu a tocar violino, com doze guitarra e aos dezesseis tocava bandolim e banjo entrando para o grupo de Noel Murphy. Estava também no Drught Todrege, mas estava no MAGNA CARTA quando foi convidado para essa gravação com Elton John.
Davey estava com vinte anos então, mas já tinha muita experiência e talento.
Em um dos intervalos das gravações , enquanto tomava café com Gus, Elton perguntou:
- Onde vocês arranjaram tanta gente boa? Esse garoto Davey é ótimo
- Davey Johnstone? Ele é muito bom mesmo...
- Ele já tem grupo? Toca para alguém?
- Ele toca com um grupo chamado MAGNA CARTA
- Puxa... falou Elton, pensativo.
Gus olhou para ele e tirou os óculos.
- Quer desembuchar, homem? No que você está pensando?
Em nada...só acho que se tivéssemos alguém como ele na banda iria fazer uma diferença enorme nos nossos shows.Um guitarrista me daria a oportunidade de improvisos. Estamos apenas com baixo e bateria me acompanhando... Dee Murray e Nigel Olsson são ótimos, mas… a guitarra do cara fala!
Depois que parte da banda foi embora junto com os técnicos Gus pediu para Davey ir falar com ele no escritório.
- Que está achando? Gus perguntou.
- De estar trabalhando com Elton.
- Legal, um grande músico e profissional. Já assisti alguns shows dele, vocês estão com a faca e o queijo na mão. Elton é ótimo.
- Quer fazer parte desse queijo?
- Precisamos de um guitarrista fixo e você é muito bom
Davey pensou um minuto e disse:
- Pra te falar a verdade até que gostaria mas tenho compromissos com meu grupo, até o final do ano.
- Tudo bem, ele não vai gravar outro álbum até o final do ano, além do mais você pode mesclar suas apresentações com o Magna Carta com as de Elton... Te aviso das datas...
- Mas e Elton, ta sabendo disso?
- A idéia foi dele mesmo.
- Não costumo brincar com profissionais nem o Elton. Ele te quer na banda e sabemos que você dá conta do recado.
- Nunca recebi tanto elogios... na verdade não estava muito satisfeito com meu trabalho no Magna Carta.
- Então ficamos conversados,voltamos em breve a nos falar., disse Gus, apertando a mão de Davey.
Tumbleweed Connection
Álbum de estúdio por Elton John
Lançamento
30 de Outubro de 1970
Gravação
Trident Studios, Londres, Março de 1970
Gênero(s)
Rock
Duração
46:56
Formato
LP
Gravadora(s)
DJM Records
Uni (EUA/Canadá)
Produção
Gus Dudgeon
Cronologia de Elton John
Último
Elton John
(1970)
Madman Across the Water
(1971)
Próximo
Tumbleweed Connection é o terceiro álbum de estúdio do cantor e compositor britânico Elton John, lançado em 1970.
Com exceção de "Love Song", escrito e composto por Lesley Duncan, as letras foram escritas por Bernie Taupin, enquanto que a música foi composta por Elton John. Nos Estados Unidos, o trabalho conseguiu status de "Disco de Ouro" sem nem mesmo lançar um único single.
Em 2003 a revista Rolling Stone classificou este álbum como o 455° em sua lista de 500 melhores discos de todos os tempos.
Em 2008 uma versão de luxo do álbum foi lançada, contendo um disco extra com demos de piano e versões ao vivo das faixas do álbum original.
Faixas
Todas as músicas de Elton John e Bernie Taupin, exceto quando indicado.
[editar]Lado 1
"Ballad of a Well-Known Gun" – 4:59
"Come Down in Time" – 3:25
"Country Comfort" – 5:06
"Son of Your Father" – 3:48
"My Father's Gun" – 6:20
[editar]Lado 2
"Where to Now St. Peter?" – 4:11
"Love Song" ([Lesley Duncan]) – 3:41
"Amoreena" – 5:00
"Talking Old Soldiers" – 4:06
"Burn Down the Mission" – 6:22
[editar]Bonus tracks (1995 CD reissue)
"Into the Old Man's Shoes" – 4:02
"Madman Across the Water" [Versão original] – 8:52
[editar]Bonus tracks (2008 Deluxe Edition)
"There Goes A Well Known Gun" [Versão alternativa de "Ballad of a Well-Known Gun"] - 3:27
"Come Down in Time" [Piano demo] - 3:21
"Country Comfort" [Piano demo] - 4:12
"Son Of Your Father" [Piano demo] - 4:13
"Talking Old Soldiers" [Piano demo] - 4:13
"Into the Old Man's Shoes" [Piano demo] -3:40
"Sisters of the Cross" [Piano demo] - 4:38
"Madman Across the Water" [Versão original] – 8:52
"Into the Old Man's Shoes" - 4:06
"My Father's Gun" [BBC session] - 3:43
"Ballad of a Well-Known Gun" [BBC session] - 4:36
"Burn Down the Mission" [BBC session] - 6:52
"Amoreena" [BBC session] - 5:12
[editar]Pessoal
Elton John
Madeline Bell
Paul Buckmaster
Caleb Quaye
Roger Pope
Dee Murray
Nigel Olsson
Dave Glover
Barry Morgan
Tony Burrows
Brian Dee
Ian Duck
Lesley Duncan
Mike Egan
Herbie Flowers
Kay Garner
Dusty Springfield
Mick Ronson
[editar]Produção
Gus Dudgeon – produtor
Robin Geoffrey Cable – engenheiro
Gus Skinas – edição
Ricky Graham – digitalização
Greg Penny – surround mix
Bernie Taupin – letras
Paul Buckmaster – arranjos
David Larkham – direção de arte, design, design de capa
David Larkham, Barry Wentzell – fotografia
John Tobler – notas
Bernie Taupin é um dos principais fatores para o sucesso de Elton
John nos Estados Unidos, e daí para o mundo.
Ao chegar em 1970 à América Elton John não era um artista situado com
os temas ou universo americano, em geral.
As canções encontradas no álbum "ELTON JOHN" eram sérias e SOTURNAS
(First Episode At Hienton), beirando, o trágico (The King Must Die).
Em questão de poucas semanas após sua chegada BERNIE TAUPIN entendeu
que o caminho que Elton John deveria trilhar não deveria ser esse: De
ser um compositor lúgubre.
Encarregou-se, então, de traçar toda um percurso para suas carreiras:
Adotou, então, temas folclóricos, tradicionais da cultura norte-
americana. Os sonhos, desejos, vontades, atitudes, história, lendas e
artes passaram, então, a ser uma constante em sua obra.
TUMBLEWEED CONNECTION era o primeiro álbum, na seqüência, a retratar
toda a cultura norte americana. Um álbum COUNTRY, FOLK onde o
espírito aventureiro americano era reinante.
Canções como: Ballad Of A Well-Known Gun , Country Comfort ,Son Of
Your Father ,My Father's Gun ,Where To Now St. Peter? Amoreena,
Talking Old Soldiers e Burn Down The Mission, especificamente
(retirei algumas faixas) representam a ALMA norte-americana, seja seu
gosto pelas armas, as guerras civis, retratadas por conversas
narrativas, seja pelas canções românticas que retratavam o ambiente
rural.
Os encartes, também, complementavam essa sintonia entre canção e
letra.
No encarte do LP em BURN DOWN THE MISSION existe uma imagem de
soldados erguendo a bandeira americana, em clara alusão à guerra
civil entre o norte e o sul. Apesar de a tradução da canção não ter
uma linha definida e clara, julgo, ainda (posso estar errado) que o
tema centrado ali é a guerra civil.
BURN DOWN THE MISSION
(INCENDIEMOS A IGREJA)
Você diz que há um anjo em sua árvore
Ele disse que veio pra me convocar?
Pois as coisas estão ficando desesperadas lá em casa
Vivendo na Paróquia dos caras mais inquietos que conheço
Traga sua família pro lado do rio
Olhe pra oeste pra ver onde esconderam os estoques
Por trás de quatro paredes de pedra o homem rico dorme
Chegou a hora de tocarmos fogo em suas posses.
Incendiemos a Missão (Igreja Missionária)
Se quisermos ficar vivos
Assista a fumaça escura voar pro paraíso
Veja a chama rubra iluminar o céu
No meio da floresta os esquilos estão passeando hoje
Minha mulher chorou quando me levaram embora
Mas o que mais eu podia fazer para aquecê-la,
A não ser queimar, queimar, as paredes da Igreja.
*****************
Veja bem que os termos "Ele disse que veio pra me convocar?" e "Minha
mulher chorou quando me levaram embora" refere-se à convocação ao
exército. A ilustração junto à canção complementa esse meu
raciocínio, que não quer dizer que seja o correto.
A resposta do povo americano foi imediata: levou Elton John
rapidamente ao topo das listas em um álbum nada comercial. Agora
Elton John era CULT.
1971 trouxe o lançamento de 04 álbuns e por conseqüência, um excesso
de exposição. Adotado pela critica, elogiado por vários superstars,
só lhe faltava o salto decisivo para a fama. Assim, em janeiro desse
ano Elton John volta à carga com um novo lp: TUMBLEWEED CONNECTION. O
objetivo era recriar a América e o disco tinha tudo para isso, se
inclinando para o CONTRY & WESTERN. O oportunismo do título era
claro: o filme THE FRENCH CONNECTION (Operação França), um clássico
no cinema do ano anterior, ganhando um OSCAR, se somava ao sucesso
das tiras WESTERN dos TUMBLEWEEDS (Aqui no Brasil intituladas
como "KID FAROFA"), quadrinhos de enorme aceitação nos Estados Unidos.
TUMBLEWWED foi para a América e para os americanos, diretamente em um
contexto sobre sua cultura.
Naquele mesmo ano Elton lançou canções bem rock´n´roll, diferentes
das lançadas em TUMBLEWEED: BAD SIDE OF THE MOON e ROCK´N´ROLL
MADONNA eram canções que revitalizaram seu repertório.
Deseja ser avisado dos novos capítulos via e-mail? escreva para editor@eltonjohnscorporation.com e solicite o alerta para BIOGRAFIA