Alberta Ballet brings Elton John hits to Vancouver
Rocket Man among 14 songs featured in contemporary dance extravaganza Love Lies Bleeding
Read more:
http://www.vancouversun.com/entertainment/Alberta+Ballet+brings+Elton+John+hits+Vancouver/5506578/story.html#ixzz1ZxOM6b1a
Alberta Ballet performs Love Lies Bleeding at the Queen Elizabeth Theatre Thursday, Oct. 13 to Saturday, Oct. 15.
Love Lies Bleeding
Queen Elizabeth Theatre
Thursday, Oct. 13 to Saturday, Oct. 15 at 8 p.m. and a 2 p.m. matinee Saturday
Tickets: $40 to $90 (excluding service charges and HST) from
ticketmaster.ca
or 1-855-985-2787.
VANCOUVER — Bennie and the Jets, A Candle in the Wind and Goodbye Yellow Brick Road are all instantly recognizable songs no matter where they're heard.
For people who grew up listening to the classic pop songs by Sir Elton John and Bernie Taupin, there is more to them than the appeal of heartbreaking lines and memorable tunes. The songs are also associated with memories of their youth.
When choreographer Jean Grand-Maître was developing his ideas for Love Lies Bleeding, his contemporary dance production based on the duo's songs, he knew he couldn't ignore those memories – his own included.
"That's usually a problem I have when I make ballets like this," said Grand-Maître. "When you're using legendary recordings and music, people may have their own ideas of Elton John, what he represents and what his music should look like. That's always our challenge for us to create ballets inspired by these very famous contemporary icons and try to surprise the audience – and see something unexpected."
During the past several years, Grand-Maître has developed a special talent for creating contemporary ballets to the songs of pop music stars.
The artistic director of Alberta Ballet first did it in 2007 when he created a dance work to the songs of Joni Mitchell. Called The Fiddle & The Drum, it was performed in Vancouver last year to open the Cultural Olympiad. During the 2010 Winter Olympics, Grand-Maître was also responsible for staging the opening and closing ceremonies in BC Place.
Grand-Maître went to the world of Canadian pop music again with Fumbling Towards Ecstasy, a contemporary dance based on the songs of Sarah McLachlan. It premiered earlier this spring in Calgary.
Grand-Maître's process of turn pop music into contemporary dance starts with personal meetings with the artists. Once he meets face to face, he can then start a dialogue that leads to the first creative steps.
The first meeting with John took place in 2008 when John was performing in Calgary. John had already heard of Grand-Maître's success with the Joni Mitchell production. That turned out to be a big plus because John is a big fan of hers.
The second meeting was a year later on Valentine's Day in Las Vegas where John was performing at Caesars Palace. Grand-Maître met him in his huge suite before a concert when John was wearing lavender glasses, a bathrobe and silvery slippers with EJ on them along with sparkly diamonds in his hair.
"He asked that I come and spend an afternoon with him before a concert," Grand-Maitre said. "We started talking about the ballet and what it would look like. It was really during that interview that the ballet got designed. He was very gracious.
"The guy is quite a genius. When you meet with him, you realize how brilliant and intense he is. There's a lot of melancholy in this guy."
John wanted a ballet that would attract a new audience to his songs and a production with a storyline that would educate people about substance abuse and about treating people living with AIDS with dignity. It would be loosely based on his life but it wouldn't be an autobiography.
"He said to me: 'I battled demons my whole life.' Although we hear about his triumphs and huge successes, his life was quite a struggle," Grand-Maître said.
"Unlike Kurt Cobain, or Janis Joplin or Michael Jackson – he survived."
Grand-Maître, who calls John the Johann Sebastian Bach of pop music, said most of John's songs were composed in under an hour. Taupin would give him the lyrics and John would park them in a drawer until he felt sad enough to tackle them. The music came out so quickly, Grand-Maître said, it was like an emotional Polaroid.
"I never called it a biography," Grand-Maître said by phone from Calgary. "To do a biographical ballet on a rock star would be the most boring thing. Better to leave that for books and literature than for dance."
The basic storyline told through 14 songs spread over 80 minutes is of a young man finding fame and wealth but always fighting his inner demons. They almost get him but he eventually finds love and becomes a survivor.
The songs include Bennie and the Jets, I'm Going to be a Teenage Idol and Rocket Man in Act 1; The King Must Die, Someone Saved My Life Tonight and Saturday Night's Alright for Fighting in Act 2.
In developing the look for Love Lies Bleeding, Grand-Maître looked for inspiration to England where John grew up. The inner demons that John faces are inspired by the droogs in Stanley Kubrick's Clockwork Orange. Three drag queens who show up and give him a tough love session are based on the three witches in Macbeth.
Grand-Maître said Love Lies Bleeding is a hybrid of contemporary ballet, hip hop, inline skating and even an aerial number in the style of Cirque du Soleil. Overall, he said, the choreography has the jazzy flavour of Bob Fosse, who was responsible for the dance scenes in films such as Cabaret and All That Jazz.
After Vancouver, the production opens in Toronto in November. The production is a big one to take on the road that requires 50 people and three semi-trailers full of costumes and props.
Grand-Maître hopes to take Love Lies Bleeding on a world tour.
"Elton's big all over the world," he said.
"We've been working hard to take it on the road. It's like launching a cruise ship: you have to do it carefully."
kevingriffin@vancouversun.com
© Copyright (c) The Vancouver Sun


Read more: http://www.vancouversun.com/entertainment/Alberta+Ballet+brings+Elton+John+hits+Vancouver/5506578/story.html#ixzz1ZxOSgWY8
Only premium seats remain for Elton John
"We have just over 1500 seats left. All are expected to go as the date comes closer," Capital C: Concerts managing director Phil Sprey said yesterday.
"Sales over the Rugby World Cup period have been slower, but we expect a total sellout over the next six weeks."
There were still "a handful" of $275 tickets in the licensed upper south stand available yesterday, Mr Sprey said.
"There are a few in the top price category [$400 Platinum], which is on the pitch, and the rest are in the next category ($300 Diamond), in the north and south stands. All other categories are 100% sold out," he said.
Sir Elton (64) would be backed by his long-time band - Davey Johnstone, Nigel Olsson, Kim Bullard, Bob Birch and John Mahon - and would bring "his own special guest artist", Mr Sprey said.
"The concert in Dunedin's Forsyth Barr Stadium in November will be the southern-most place he has ever performed in."
Sir Elton will be supported by Hokitika country singer-songwriter Katie Thompson, who was selected to open the concert after a nationwide promotion, and rock guitarist Kara Gordon, who will play a medley of instrumentals and his version of the New Zealand national anthem.
The November 25 concert had stretched local accommodation, Dunedin Visitor Centre training and administration officer Peter Campbell said yesterday.
"All the hotels and motels in the central city are pretty full up at this time and we've had to put some people into accommodation in Mosgiel," he said.
"We've still got some back-up accommodation, with backpackers, bed and breakfastsand university halls of residence available, but people may not get exactly what they want.
Only premium tickets are still available for next month's Sir Elton John concert at Dunedin's Forsyth Barr Stadium.
Laura Slatkin and Sir Elton John Announce the Addition of Sir Elton John's Holiday to the NEST Fragrances Collection
New Luxury Scented Candles to Benefit the Elton John AIDS Foundation and Feature a Uniquely Modern and Innovative Holiday Design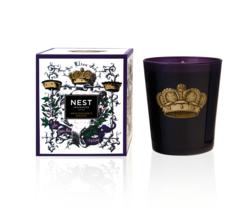 Sir Elton John's Holiday Classic Candle
This gorgeous candle offers consumers the opportunity to purchase festive holiday gifts for family, friends, and colleagues that will make a real difference in the lives of people affected by the HIV/AIDS epidemic.
New York, NY (PRWEB) October 05, 2011
NEST Fragrances
, the leading luxury home fragrance manufacturer, announces the introduction of Sir Elton John's Holiday to benefit the
Elton John AIDS Foundation
, one of the world's leading nonprofit HIV/AIDS organizations supporting innovative HIV prevention programs. The Sir Elton John's Holiday charitable candle and boxed votive set will debut at Bergdorf Goodman, Neiman Marcus and specialty stores nationwide beginning in mid-October.
"Elton John loves candles…he is a true home fragrance aficionado," said
Laura Slatkin
, founder and CEO of NEST Fragrances. "When I launched my first company with my husband in 1992, Elton quickly became a Slatkin & Co. devotee. One day, we closed our shop so Elton could investigate and enjoy our fragrances in privacy; ever since that day, we have become good friends. We later came up with the idea of combining Elton's passion for candles and his dedication to helping those affected by AIDS, and we began a decade-long plus tradition of launching home fragrance collections to support the Elton John AIDS Foundation."
"Having the opportunity to work with Laura again to produce a stunning candle that will benefit my Foundation has been both rewarding and a great deal of fun," said Sir Elton John, Academy Award- and Grammy Award-winning recording artist and founder of the Elton John AIDS Foundation. "I love scented candles and enjoy incorporating them into the décor for all my homes. This particular candle is very special. It not only looks gorgeous and smells sensational, but it will also offer consumers the opportunity to purchase festive holiday gifts for family, friends, and colleagues that will make a real difference in the lives of people affected by the HIV/AIDS epidemic."
The source of inspiration for the unique and unexpected design on the Sir Elton John's Holiday candle packaging and glass is based on an etching of a coat of arms crest belonging to a noble family that lived in Luxembourg during the 1800s. The design underwent creative modification with the inclusion of gold, red, and green seasonal holiday foliage drawn into the artwork. Bernard Maisner, an internationally renowned calligrapher, fine stationer and artist, added and blended in custom-made, hand-written calligraphic lettering in both a gothic style from the medieval era and an italic humanist script from the Renaissance period. The artwork similarly blends old and new in a playful and light manner, featuring majestic gold crowns and gothic calligraphy.
"When Bernard Maisner came to my office to discuss his design work, I took one look at his portfolio and said, 'You must do something special for my friend, Elton John,'" continued Slatkin. "Maisner's work is so steeped in the tradition of royal engravings it was a natural fit. It was Elton's idea to add the deep aubergine color to the candle glass, which took the collection to a whole new level of sophistication."
Featuring a delightfully festive fragrance blend of evergreen and balsam fir needles combined with rich woods and a sparkling citrus accord, Sir Elton John's Holiday is available in an 8.1 oz. candle for $38 (SRP) and a six-pack boxed votive set for $54 (SRP). A portion of the proceeds from the sales of Sir Elton John's Holiday will benefit the Elton John AIDS Foundation.
To obtain product samples and high-resolution images, please contact Tim Rossi (contact information above).
About NEST Fragrances
Founded and owned by Laura Slatkin, NEST Fragrances (NEST) is a specialized home fragrance company that emerged from its parent company, Slatkin & Co., after it was acquired by Limited Brands, Inc. Laura has a long-standing reputation as a leader in the home fragrance industry and is well-known for her luxurious scented candles, room sprays, diffusers and other essentials for rooms and environments. NEST's client list currently includes more than 70 prestige companies in the fashion, beauty and home fragrance industries – all of whom turned to NEST to develop their own exclusive line of home fragrance products. In 2008, Laura launched her own home fragrance collection, NEST Fragrances, which won the 2009 FiFi Award for Interior Scent Collection of the Year. NEST draws on decades of experience in the home fragrance industry with a special expertise in designing, developing, producing, distributing and marketing home fragrance collections that capture each client's unique brand image and style. For more information, visit
http://www.nestfragrances.com
. NEST can also be found on
facebook
and
Twitter
.
About the Elton John AIDS Foundation
The Elton John AIDS Foundation (EJAF) was established in the United States in 1992 and in the United Kingdom in 1993 by Sir Elton John. Together, both entities have raised more than $225 million for worthy programs in 55 countries around the globe since inception. Today, EJAF is one of the world's leading nonprofit HIV/AIDS organizations supporting innovative HIV prevention programs, efforts to eliminate stigma and discrimination associated with HIV/AIDS, and direct care and support services for people living with HIV/AIDS. The U.S. organization's current grant-making priorities target HIV prevention programs throughout the United States, the Americas, and the Caribbean; HIV prevention and care services for highly marginalized and vulnerable populations; and HIV/AIDS prevention education and the promotion of sexual health for adolescents. For more information, please visit
http://www.ejaf.org
.
<!–
–>
Elton John and Las Vegas were done for any other. He's a hit-making appurtenance who pays off some-more reliably than a slots – and he has a debility for glossy things. So early on in "The Million Dollar Piano," his lapse to Vegas, Sir Elton took an register of a other musicians who have played during Caesars Palace given his final residency finished in 2009. "Celine Dion had one child – now she has three," he noted. "Good thing she's not Catholic. Also, Cher's daughter became a man." He continued, "Benicio Del Toro, his father-in-law is Rod Stewart." (Actually, del Toro is a father of Kimberly Stewart's daughter, though is not now in a attribute with her.) "And we became a father. Miracles occur here, we tell you." He epitomised a adore life of Shania Twain, due to play a Colosseum subsequent year (her husband, "Mutt" Lange, left her for her best friend, and Twain finished adult marrying her best friend's ex-husband), and concluded, "A year by her run, a dual guys will run off together."
Photos: Elton John's Outfits Through a Years
Was anything in John's opening night as startling as Twain's adore life? Not really, no. He gratified a throng with strike after hit, some achieved sexually ("Levon"), some dutifully ("Saturday Night's Alright for Fighting"). He skipped "Candle in a Wind," bizarrely shutting instead with "Circle of Life" from The Lion King. John also pulled out some surprises, such as "Indian Sunset" (from Madman Across a Water), "Hey Ahab" (from final year's The Union), and 1982′s "Blue Eyes" (which served as an extended reverence to Elizabeth Taylor, notwithstanding a fact that she was famous for her violet eyes). And when he played a dullish exaggerate "I'm Still Standing," he literally stranded his tongue in his cheek. His movable five-piece rope (augmented by dual cellists and 4 backup singers) enclosed drummer Nigel Olsson and guitarist Davey Johnstone, both of whom have been personification with him for 4 decades. Although John's voice no longer has a top register of his youth, his fingers sojourn nimble, and a show's many joyous moments came during his generous piano solos.
John's career is built on a suggestion of abundance, that manifests itself as both munificence and excess. His songs crawl with melody, and Bernie Taupin's lyrics are as loquacious as anyone's this side of Bob Dylan. Now that John's incited 64, he's toned down a theatre costumes: after shedding a festive cape, he achieved many of a uncover in a black fit flashy with bullion sequins. Then he altered garments for a encore: a black fit with red sequins. But a uncover had copiousness of visible kick regardless: a ornate set, flashy like a Versailles junkyard, and a vast video shade that seemed vigilant on inducing suit sickness. The "million dollar piano" John will be personification for a subsequent 3 years incited out to be a Yamaha indication renowned by a smaller video shade using along a side. "It has a spin-cycle washer during a back," he boasted. "It has a microwave. The usually thing that we was unhappy by – no barbecue."
Set list:
"The Bitch Is Back"
"Bennie and a Jets"
"Rocket Man"
"Levon"
"Tiny Dancer"
"Your Song"
"Mona Lisas and Mad Hatters"
"Better Off Dead"
"Indian Sunset"
"Blue Eyes"
"Goodbye Yellow Brick Road"
"I Guess That's Why They Call It a Blues"
"Philadelphia Freedom"
"Don't Let a Sun Go Down on Me"
"Hey Ahab"
I'm Still Standing
Crocodile Rock
Saturday Night's Alright for Fighting
Encore:
Circle of Life
Just the Facts: Sir Elton John
Reginald Dwight grew up to be one of the biggest pop stars of all time


Read more: http://www.vancouversun.com/health/Just+Facts+Elton+John/5506591/story.html#ixzz1ZxOqPMJw
• Born Reginald Dwight, he grew up in a lower middle class neighbourhood outside of London.
• Dwight won a scholarship to the Royal Academy of Music when he was 11. By the time he was a teenager, he wanted to be a rock 'n' roller. At 18, he joined the group Bluesology, which became the backup band for Long John Baldry.
• When Dwight answered an ad placed in New Musical Express by Liberty Records, one of the executives matched him with Bernie Taupin. Taupin wrote the lyrics, John the music.
• He created his stage name by mixing Elton from Bluesology saxophonist Elton Dean with John, from Long John Baldry.
• His first hit was in 1970 with Your Song.
• During the decade, John's career soared. He became the first western pop artist to perform in Russia – then the U.S.S.R. – and created a reputation as a great showman who performed in outrageous costumes.
• Plagued by his demons, he denied his homosexuality to the point that he married a woman named Renate Blauel in 1984. By 1990, his weight had ballooned to 300 pounds. He checked himself into a Chicago hospital to combat drug abuse, alcoholism and bulimia.
• After he turned his life around, he established the Elton John AIDS Foundation. Since 1992, it has raised more than $220 million in support of HIV prevention.
• In 1993, he met his partner David Furnish. In 2005, the two entered into a civil partnership.
• John's Candle in the Wind, which sold 37 million copies, is the biggest selling single in history. He's had 29 consecutive Top 40 hits, sold more than 250 million recordings, and won an Academy Award for The Lion King. Billy Elliott, for which he wrote the music, is performed around the world.
• John was knighted by Queen Elizabeth in 1998.



Read more: http://www.vancouversun.com/health/Just+Facts+Elton+John/5506591/story.html#ixzz1ZxOv1g9M