TV News Elton won't be playing Rachel's dad on Glee
Glee fans who were hoping that Elton John would play one of Rachel Berry's theatrically-inclined fathers have had their dreams dashed.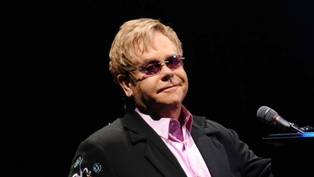 Show creator and executive producer Ryan Murphy has confirmed that 'the man most likely to' is now a definite non-starter for the much-debated roles.
"He is, unfortunately, touring," Murphy told TV Guide when asked if John is a contender to play one of the two dads.
Murphy did confirm that he is "currently meeting and talking" to actors, claiming: "So many people are interested in playing them."
Posted by Jared Matthew Kays on January 7, 2012
Elton John's music is as fresh today as it was forty years ago.
That's a rather bold statement coming from a man who was born almost twenty years after his career began but I'm sure we can all agree that after listening to the music from past generations we're left with a sense of having experienced the slightest bit of that time. Regarding popular (or mainstream music) my reference point, above all other musical artists, is Elton John.
I believe music journalists are rather remiss for placing so much emphasis on the works of Bob Dylan, The Beatles, and the likes thereof while overlooking the works of Elton John. Writers are naive idolaters for pursuing the immortality of the masterpieces by artists like Dylan and The Beatles. I can't help but believe that this is the result of thirty years of journalistic follow the leader rather than authentic personal opinion. "Blonde on Blonde" and "I Want To Hold Your Hand" are popular music masterpieces but with every repetitive article written about their pricelessness they become more intrinsic in value. I'm fine with that because, to me, it infinitely increases the value of Elton John's music. While others mindlessly worship the Princes of popular music, I relish in the works of the quiet King – Elton John.
Our world has been home to countless musical artists with extensive knowledge of chord structure and melodic progression, and Elton is one of them. His mastery of the melodic plane is his musical prowess. While other composers search the scale to perfectly place the turn around or key change, he is comfortable with leaving a little room for the idea or phrase to linger just a little bit longer. Instead of returning to the refrain or bolting to the bridge, there's always a space to jump off the tracks to expand on the idea or to improvise. At this point, it would seem that he's just another accomplished musician with fantastic ability. Prowess, however, is the fertile bedding.
I tend to think that it is more gift than ability to turn musical ability into musical genius. After all, it's the unexplained, undetermined, even undetected factors that pull us into the mind and world of the musical genius. If I was asked to point someone in a general direction to uncover those factors, I would first advise them to look beyond the context of the melody and listen to the elemental sound. Elton can seamlessly graft several styles of music into one fluid piece. His art is rooted in blues and traditional hymns, parents of gospel. He once said, "When in doubt, write a hymn." The stem then rises with fibers of solid rock and only the most legitimate strands of pop. What blossoms is pure musical beauty with vibrant colors that cannot be duplicated, in a light all to itself. Without accompanying lyrical content, his compositions can still stand alone as timeless works of melody.
I was not surprised when I learned that he enjoyed playing Frederic Chopin and Johann Sebastian Bach. They're my favorite classical composers, especially Chopin. If you know anything about the works of Frederic Chopin then you know how intricate and complex they are; not easy to play, let alone understand. Elton was doing this in his youth.
Aside from his depth as a classical player, I dare you to listen to a live recording of any one of his songs where he doesn't offer the chance to listen to his skills in blues improv. With all due respect, Mr. Charles, you may have to move over. It's the same blues scales and blues notes that you'll hear from Albert King to Kenny Wayne Johnson but it's in Elton's style. They're Elton's runs and stops. The marriage of these runs and stops pertain only to the piece he's playing, unlike most other blues artists. For instance, you'll hear the same patterned notes in Stevie Ray Vaughan's "Scuttlebuttin'" and "Mary Had A Little Lamb'". That's just how the blues goes. At face value, it goes no deeper than change of tempo. Elton's style of blues isn't about tempo. It's about timing. It's doing the right thing at the right time.
In 2005, Elton appeared on Inside the Actor's Studio. During his interview, he was asked to explain song creation. He answered with a few words but thought to explain through action. He asked for a book from his student audience. "Peer Gynt", he said gleefully. He took the book to his piano and opened it. He was going to explain song creation by creating a song around passages of the play on the spot. To truly appreciate it, you'll just have to watch it for yourself. He wasn't being arrogant when he said he could put just about anything to music. He was being right. If it wasn't for this gift, the poetry and prose of the brilliant Bernie Taupin may have been given undeserving tones by unworthy musicians.
There are a number of vocalists that have been unofficially monikered "The Voice". Though Michael Bolton and Vern Gosdin are phenomenal singers in their own right, Elton John surpasses them all. His voice has grown from a twenty-something tenor to an aged and distinguished baritone. To me, his voice is the epitome of a wine reference; better with age. What began as a young, energetic cry that conveyed every emotion, has turned into an aged, deep, raspy and thick voice that understands every emotion. When you hear his voice in "Madman Across the Water" when first recorded, you hear the anxiousness and pleading to convey the contempt and energy of the song. Listen to a live performance of the song from recent years and you'll realize it's no longer a plea. It's a wiser and humbled beckoning that truly understands each word and its consequence. It's a sound that makes even great singers sound off-key (and he is never off-key. In fact, I don't think he's ever hit a wrong note in his life.) His voice is the place that reverberates all that he wants you to know. And I find it impossible to not listen.
Bernie Taupin is arguably the greatest lyricist of all time. He can write with an air of mystery or by direct proclamation. No matter the structure, his words, like Elton's music, are to this day still relevant. I find that nearly all of popular music in each generation, regardless of content and context, is generally a statement of the times written for a specific purpose. The Taupin/John themes seem to organically realign with the ever-changing fabric of society. You'll get the vintage effect of listening to a classic Elton John recording. Then, by listening to a later live version you'll experience that realignment.
The Taupin/John catalogue holds of hundreds of songs. Hundreds of great songs. That's an amazing accomplishment. Within that catalogue are works that have inspired millions of human hearts across several generations. From the defiant "I'm Still Standing" to the wise and heartfelt "The Bridge" (which is one of the most beautiful songs ever written), in the universe that is music, these songs have changed the matter within under the radar.
I've never met Elton John and I probably never will. It's rather stupid to say you know someone you've never met and I'm quite sure that any artist is disgusted to think that someone they've never met knows them but I also think there are exceptions. I know Elton John in a simple sort of way. He's gifted and talented. He's passionate and compassionate. He's intelligent and classy. He's humble and appreciative. And I wouldn't want to piss him off. Definitely wouldn't want to piss him off.
I observe, from afar, the world of popular music. Mostly what I see is a self-aware, self-indulged, self-centric, self-idolizing….self-everything community forcing an air of happiness about them because they're wealthy and famous and surround by people who blow kisses up their asses for being mediocre at turning out synthesized pop globs. Elton just looks happy. He looks happy because…he's actually happy. It's not money, or fame, or prestige that makes him happy. If you want to know why he's happy then ask him. I don't know. I can just point out the obvious trifles. Maybe it's his home life. Maybe it's his struggles that gave way to his redemption. I can tell you this, friend; he was never engrossed in all the stereotypes that label an artist's false interests.
The music and the man, no matter who you're referring to, go hand in hand. And when the man is lost, the music loses it's luster. So many great artists lost the luster because they wrote an album with one idea; protesting a war, or fighting unintelligibly for a dime cause. And if you really look at those artists, you always wonder why they look unhappy. No, Elton's music never lost the luster. And he seems to always glow with happiness.
Elton John's music is as fresh today as it was forty years ago. Take a listen.
http://web.eltonjohn.com/index.jsp
Justin Timberlake 'serious' about Elton role
Justin Timberlake
Justin Timberlake is allegedly "seriously" thinking about playing Sir Elton John in the upcoming movie about the British pop star's life.
John has already stated that he is eager to see Timberlake play him in the movie – which is believed to be called Rocket Man – and that has prompted the American star of films such as Social Network and Bad Teacher to give the role some serious consideration.
A source close to the project spoke to entertainment show E! News about Timberlake, saying: "Justin is taking it very seriously. He's working with his people to figure out exactly how to respond."
If Timberlake – who himself enjoyed a successful career as a pop star before turning to movies – does sign on for the part, it would actually be the second instance in which he has portrayed John after playing a young version of the hitmaker in the video for 2011 hit single This Train Don't Stop Here Anymore.
It is expected that an official statement will be released in relation to the movie within the next few weeks, although John has previously stated that the film will definitely not be simple biopic.
The 64-year-old said: "It's going to be a surreal look at my life, and not just a factual look at my life, more in the manner of a Moulin Rouge.
"I just don't want it to be a normal biopic because my life hasn't been like that."