Elton John and Ray Cooper - Teatro Antico Taormina (24 September 2010)
1CD | Unknown Rip | FLAC(tracks), No CUE, No LOG | 2:23:35 | Covers Scans | 995 MB
Genre: Pop, Rock
Live and direct FM radio broadcast by Radio2 RAI [second channel of italian national radio] from Teatro Antico, Taormina (Italy) on friday 24 September 2010, 21:14 hours.
TRACKLIST
01-intro 3.07
02-The One 6.30
03-Sixty Years On 4.53
04-The Greatest Discovery 5.00
05-Border Song 3.41
06-The Ballad Of The Boy In The Red Shoes 4.29
07-The Emperor's New Clothes 4.23
08-I Guess That's Why They Called The Blues 4.43
09-Rocket Man 9.25
10-Tiny Dancer 6.41
11-Philadelphia Freedom 6.10
12-Your Song 4.15
13-Funeral For A Friend 4.57
14-Tonight 6.33
15-Better Off Dead 2.57
16-Levon 7.42
17-Gone To Shilo 5.15
18-Indian Sunset 7.02
19-I Think I'm Gonna Kill Myself 3.30
20-Daniel 4.07
21-Sorry Seems To Be The Hardest Word 4.04
22-Take Me To The Pilot 10.25
23-Don't Let The Sun Go Down On Me 6.08
24-Benny And The Jets 7.05
25-Crazy Water 5.41
26-encore break 2.36
27-outro 2.16
DOWNLOAD
http://www.fileserve.com/file/FVphjtU/EJandRC_fm.part01.rar
http://www.fileserve.com/file/4KUkdFh/EJandRC_fm.part02.rar
http://www.fileserve.com/file/fpFNstc/EJandRC_fm.part03.rar
http://www.fileserve.com/file/UEcZyEE/EJandRC_fm.part04.rar
http://www.fileserve.com/file/kFFQC36/EJandRC_fm.part05.rar
http://www.fileserve.com/file/h5djpjH/EJandRC_fm.part06.rar
http://www.fileserve.com/file/QUd8Cbv/EJandRC_fm.part07.rar
http://www.fileserve.com/file/EEXFgJT/EJandRC_fm.part08.rar
http://www.fileserve.com/file/XXw8MBm/EJandRC_fm.part09.rar
http://www.fileserve.com/file/6QgeSCB/EJandRC_fm.part10.rar
http://www.fileserve.com/file/6RTCuZT/EJandRC_fm.part11.rar
http://www.filesonic.com/file/26287205/EJandRC_fm.part01.rar
http://www.filesonic.com/file/26286617/EJandRC_fm.part02.rar
http://www.filesonic.com/file/26286895/EJandRC_fm.part03.rar
http://www.filesonic.com/file/26286909/EJandRC_fm.part04.rar
http://www.filesonic.com/file/26287943/EJandRC_fm.part05.rar
http://www.filesonic.com/file/26292665/EJandRC_fm.part06.rar
http://www.filesonic.com/file/26286821/EJandRC_fm.part07.rar
http://www.filesonic.com/file/26288143/EJandRC_fm.part08.rar
http://www.filesonic.com/file/26286599/EJandRC_fm.part09.rar
http://www.filesonic.com/file/26286755/EJandRC_fm.part10.rar
http://www.filesonic.com/file/26286103/EJandRC_fm.part11.rar

The Union
http://store.gotdownloads.com/elton/
Vinyl / Four sides, 180 grams
Sold Out
Get notified when more arrive!
Exclusive Limited Edition

Autographed

Elton John and Leon Russell "The Union" Vinyl.
Signed on the front cover in silver marker by Elton John and Leon Russell. Sold in a black metal frame with plexiglass, certificate of authenticity and numbered hologram sticker. Finished frame size is 12 1/2" x 12 1/2".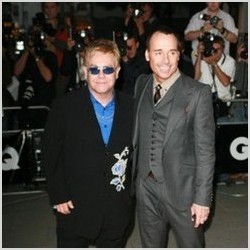 22.10.10
Sir Elton John's friends once spiked his dinner with cocaine to make him play the piano all-night.
In a new documentary focusing on how he became a superstar in America, the singer-and-pianist reveals his pals put the class A drug in his food to improve his performance.
Elton, 63, said: "I left at 7.30 in the morning and I thought, 'I've never stayed up until 7.30 before but I feel really good!' Years later I learned they had put cocaine in my food."
Rocker Danny Hutton, who played in US rock band Three Dog Night, admitted he was behind the spiking, saying: "I might have forgot to tell him. Well it certainly didn't hurt him. He went on to be quite successful."
The documentary, titled 'Madman Across The Water: The Making Of Elton', charts Elton's rise from an unknown British musician to a huge star in the late 60s and early 70s.
Talking about how he found himself hanging out with the biggest stars of the day - including Bob Dylan and Beach Boys mastermind Brian Wilson - Elton said: "In two months I met some of the greats of the music world, it was joyous."
Elton has also confirmed he has recorded a duet with Lady Gaga, titled 'Hello, Hello,' which will appear on the soundtrack of Disney film 'Gnomeo and Juliet', which is being produced by Elton's husband David Furnish. Gaga and Elton previously collaborated together for a performance at the Grammy Awards in January.
Elton is to play a show in London next Thursday (28.10.10) as part of the BBC Electric Proms concerts.
A NIGHT IN WITH ELTON JOHN
Elton John
ALL right, so he'll never match the impact of his 70s heyday – the golden era of Rocket Man, Saturday Night's Alright For Fighting, Crocodile Rock and that one about the bloke travelling tonight on a plane and seeing the red tail lights heading for Spay-ee-ay-aiiin – but even at the age of 63, Sir Elton John remains a fine entertainer.
Here's a whole evening of programmes devoted to the man himself, including a documentary, Madman Across The Water, taking a detailed look at his early years and featuring chats with, among others, Bernie Taupin, T-Bone Burnett and Leon Russell (with whom Elton has joined forces for his new album The Union).
There's also his Electric Prom for Radio 2, plus a trawl through the archives in Elton John At the BBC.
CDs of the week: Elton John, Taylor Swift and Bryan Ferry
Evening Standard 22.10.10
POP
Russell had been an inspiration to John as vocalist, pianist and songwriter, so the latter called on the former — who had fallen into a condition of callous neglect and benign decay — and suggested that they make a record together. The Union is that record.
The extraordinary fact is that far from being a condescending gesture from a superstar to one deserted by the limelight, this collaboration has rejuvenated both parties. Elton John is at his friskiest for years, particularly on the timeless and jaunty R&B of Hey Ahab and Monkey Suit.
Russell has responded equally well, banishing the memory of his lost years with the glorious syncopation of the opening If It Wasn't For Bad and the heartrending ballad I Should Have Sent Roses, which features the best lyrics a similarly rejuvenated Bernie Taupin has produced within an elephant's memory.
In short, The Union gives you two masterful talents for the price of one. Production is masterminded by the peerless T-Bone Burnett and the large cast of supporting musicians is as outstanding as one would expect of the best that (Elton's) money can buy.
This is an album of old-fashioned excellence and will adorn your collection when much else in it has withered.
PETE CLARK
October 22, 2010
·
12:08 PM
Sir Elton John sparks new residency rumors in second visit in two weeks
http://www.lasvegasweekly.com/blogs/luxe-life/2010/oct/22/sir-elton-john-sparks-new-residency-rumors-second-/
By
Robin Leach
For the second time in just two weeks, superstar Sir Elton John is back in Las Vegas -- for charity. But I'm hearing solid rumors that the legendary entertainer has begun seriously thinking of a return residency here.
Just 14 days ago,
the pianist and singer-songwriter wowed Andre Agassi's guests
at the 15th Annual Grand Slam at the Wynn. Now this weekend, he's set to dazzle again as the headliner of an all-star lineup for Justin Timberlake's Shriners Hospitals for Children.
In recent years, Elton didn't have too many complimentary things to say about Las Vegas, but times have changed and as the years ticked on -- he's often said favorable things about Sin City nowadays. Maybe he'd like to cut back on his traveling and settle here?
http://benbabylonnumber1.blogspot.com/2010/09/rock-nation-being-ej-member-experience.html
"It was the best, most fun show I've ever done. I feel......amazing....and loved.... Loved by all my friends who came......" first Ben's reaction was glory: he succeed. The Rock Nation concert, featuring Elton John band members: Davey Johnstone, Nigel Olsson and John Mahon, paid tribute to Elton himself but also to the late and unforgettable
Guy Babylon
. For the occasion, Ben joined the band playing keyboards and singin' three of his own songs.
"We played a bunch of
Elton John
Songs, and Davey played on 4 of them, and John played on two, and Nigel sang on a bunch. In the beginning, I played No Goodbyes on the Road with John. And then I brought out Davey and Jesse for "write your own song", and then I brought out Nigel for "Goodbye Superman". All of it sounded amazing....." explained me an euphoric Ben Babylon, while adding: "I cannot express how amazing I feel!". That will be an unforgettable experience for him, for sure. Two very influential people in
Ben Babylon
's life,
Chasen Hampton
, the musical director at Rock Nation School, and
Tony Avalon
, the owner of the school, were at his side.
Rock Nation
is a private rock-music school in Los Angeles owned by Tony Avalon, son of the famed actor/singer Frankie Avalon. The school produces several tribute shows several times a year, focusing on the music of different rock stars. But rarely do actual musicians from bands being honored perform in the shows. "Everybody in the audience was blown away, and the kids were awesome," Avalon said. "Having them play with rock stars that I looked up to when I was growing up was amazing. It was a night to remember."
As Ben introduced before,
John Mahon
joined him on "No Goodbyes on the Road," a poignant reflection on how people are often too busy to say goodbye to each other. Next up was the happier "Write Your Own Song,". Then,
Davey Johnstone
and his electric guitar brought new energy to the superb
"Goodbye Superman,"
the beautiful song that the young Babylon wrote in the days following his father's untimely passing, just over one year ago; that brought
Nigel Olsson
to the stage. "It means a lot to me, to be here for Guy," Davey Johnstone said, before the show. "He was my closest bud in a musical sense, and in a sports sense. Whenever we were touring, we would discuss basketball and soccer as much as music. I miss him dearly". "Guy was an influence on all of us musically and as a friend," agreed Mahon. "It is a fitting tribute to him, for us to actually play on stage with his son." "Ben has come a long way through a tough time," Olsson added. "It's very impressive to see him rock out."
"Ben did a pretty good job with the "Funeral For A Friend" intro" explained
Jan Kemp
from www.guyfan.net website, who attended the show. "That was the first song once Nigel, John and Davey left the stage. There were six separate bands of kids who then performed, and Ben played keys throughout the night. Ben also did a great job on Philadelphia Freedom and I Guess That's Why They Call it the Blues" reminded Kemp.
Many of Guy Babylon's friends and relatives were in the audience, including his widow, songwriter
Kathy Babylon
, his parents,
Graham and Mary
, and his sister, author
Donna Babylon
. Also present were VIP guests from music, film and television: actor/singer Frankie Avalon; keyboardist Lindsay Vannoy, who has worked with Elton John, Ann Wilson, Alice Cooper and others; composer and music producer Max Di Carlo, who has worked with Elton John; television writer/producer Charlie Bowyer; and film producer/director Peter R.J. Deyell. "After watching him (Ben Babylon) perform, it's clear that he really understands music," Deyell said. "When he plays keyboards, his whole body is playing. He is very aware of what he is doing at every moment, and what the other musicians on stage are doing. He is really terrific."
Everybody agreed. The sold-out show brought hundreds of people to the famed Canyon Club near Los Angeles. Young students, in the two hours show, played a selection of Elton's best tunes. The set list is listed as it follows:
No Goodbyes on the Road
(
by Ben Babylon; performed by Ben Babylon and John Mahon
)
Write Your Own Song
(
by Ben Babylon; performed by Ben Babylon, Davey Johnstone and Jesse Johnstone
)
Goodbye Superman
(
by Ben Babylon; performed by Ben, John, Nigel, Jesse Johnstone and Davey Johnstone
)
Funeral for a Friend/Love Lies Bleeding
Bennie and the Jets
All the Young Girls Love Alice
Goodbye Yellow Brick Road
The Bitch is Back
I Guess That's Why They Call It the Blues
Crocodile Rock
This Song Has No Title
Don't Go Breaking My Heart
I'm Still Standing
Don't Let the Sun Go Down on Me
Philadelphia Freedom
Rocket Man
Take me to the pilot
Saturday Night's All Right
Information about Ben Babylon is available at www.BenBabylonMusic.com and www.BabylonMusic.biz.

Information about Rock Nation is available at www.RockNationSchool.com.
Elton John and Leon Russell: The Union – review
http://www.guardian.co.uk/music/2010/oct/21/elton-john-leon-russell-union-review?utm_source=twitterfeed&utm_medium=twitter
Elton's gospel-tinged team-up with pop legend Leon Russell is a credit to them both, says Alexis Petridis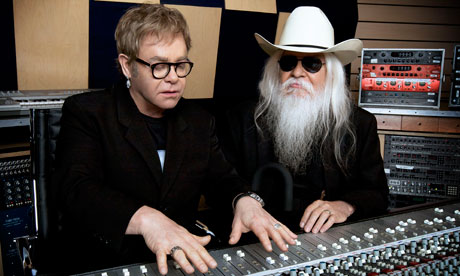 Elton John and Leon Russell It was easy to miss Leon Russell's cameo appearance on last Saturday's X Factor, dedicated to songs by the judges' musical heroes. For one thing, his name wasn't mentioned. For another, it was hard not to be distracted by news that Simon Cowell's musical heroes apparently include Kelly Clarkson and Boney M; here was a pretty jaw-dropping insight into his record collection. Mind whirling with the thought of what an all-back-to-mine listening session round Simon Cowell's might entail – you rather picture him sagely announcing he's going to hit you with an obscure old-school dance classic ("this one's strictly for the heads") then playing the Grease Megamix – it was easy for even the most knowledgeable music fan to overlook Russell's contribution to the evening: much fuss was made about the emotional power and loveliness of A Song for You, performed by John Adeleye, but no one credited the 68-year-old Oklahoman who wrote it in 1970.
Buy it from
Elton John & Leon Russell
The Union
Mercury
2010
You could argue that's Leon Russell's current standing all over. Some of his songs are enshrined not merely within the pantheon of classics, but among the stuff known even by people whose only interaction with music comes via Magic FM – he also co-wrote the Carpenters' exquisite Superstar – but hardly anyone associates them with him. It's hard to name another figure who once seemed so central to the rock aristocracy – performing with George Harrison and Eric Clapton, helming Joe Cocker's ascent to superstardom, his songs covered by Bob Dylan and Ray Charles – who has vanished so completely from the public consciousness, a victim of bad business deals, changing times and his own reticence.
In recent years, you could find Russell playing some pretty unprepossessing-sounding venues: The Snail Pie Lounge, Glenville; The Snorty Horse Saloon, Springfield; the Safeway National Barbeque Championships. Enter
Elton John
, who, while Russell has been busy rocking Gater's Sports Bar and Grill, Gun Barrel City, has been engaged in a clearly heartfelt and largely successful attempt to claw back his own musical credibility. There have been well-reviewed back-to-basics albums, relentless patronage of young artists – it sometimes feels as if no group of teenagers stumbling through Wild Thing in a garage is safe from Sir Elton bursting in and telling them what an inspiration they are to him – and now a chance to rescue an old hero from the environs of the Hog Pit Pub, Midland.
John has audibly taken to the task with relish: "You came like an invasion, all bells and whistles blowing," he sings at his new collaborator on Eight Hundred Dollar Shoes. "Your songs have all the hooks, you're seven wonders rolled into one." If it's touching to hear one of the most successful artists of all time momentarily reduced to gasping fanboy, the album works because it feels like a partnership, rather than an indulgence on John's part or an act of gratitude on Russell's. The sound – gospel-infused blues and country – tends more obviously towards the latter's style than the former's, although, in fairness, it's not that far removed from the pre-glam John of 1970's Tumbleweed Connection. Moreover, the stellar guestlist, including Bono and Brian Wilson, clearly has its roots in John's address book, and there are moments when the melodies could no more obviously be his if they turned up in a pair of sunglasses with windscreen wipers on them. As a result, The Union finally succeeds in doing what John has been tentatively pushing towards for the last decade, stripping his music of the glitzy sheen that's built up over 40 years and often threatened to consume it entirely: nothing here sounds like it could be extravagantly staged by David LaChapelle.
In place of the flamboyance and glitter, there are homages to Stax soul (I Should Have Sent Roses) and The Band (Gone to Shiloh); an eeriness that's bound up with Russell's weathered, drawling voice; dark intimations of mortality – There's No Tomorrow borrows its funeral tone and tune from the Mighty Hannibal's dirge-like 1966 single Hymn No 5 – and the encroaching twilight of their careers on The Best Part of the Day. The latter, full of show-must-go-onisms, sounds rather hokey in theory: in practice, there's something moving about hearing two artists who've enjoyed wildly differing fortunes coming to the same conclusion.
It's fair to say that not many people come to an Elton John album looking for death and eeriness: you do wonder what the people who pay to see him sing The Bitch Is Back next to a inflatable banana that looks like a willy will make of it, and what resuscitating effect it might have on Russell's career – not enough to catapult him to the attention of The X Factor crowd and supplant Boney M in Simon Cowell's affections, perhaps, but enough to ensure the Snorty Horse Saloon is but a memory for the foreseeable future. On those terms – and indeed on any others you'd care to mention – The Union is quite a triumph.