http://newsroom.mtv.com/2010/12/29/elton-john-father-david-furnish/
"For many years we have talked about fulfilling one of our greatest wishes by becoming parents. And now this wish has been granted to us, we feel so blessed and lucky."
-Legendary songwriter, performer and new father
Elton John
, declaring his state of mind following the birth of his son. John celebrated the arrival of Zachary Jackson Levon Furnish-John with husband David Furnish over the weekend, and
spoke to Us about his excitement
. "Zachary is healthy and doing well," the couple said in a statement. "[We are] overwhelmed with happiness and joy at this very special moment."
The arrival of Zachary (via an unnamed surrogate mother) marks the end of a long road to fatherhood for John and Furnish. Last year, the pair attempted to adopt an HIV-positive 14-month-old from the Ukraine named Lev, but the stars did not align for them. "David always wanted to adopt a child and I always said 'no' because I am 62 and I think because of the traveling I do and the life I have, maybe it wouldn't be fair for the child," John told reporters at the time. "But having seen Lev today, I would love to adopt him. I don't know how we do that but he has stolen my heart. And he has stolen David's heart and it would be wonderful if we can have a home [together]."
Though Zachary is the couple's first child, they certainly have experience with kids, as they have six godchildren between them, including John Lennon's son Sean and David and Victoria Beckham's two sons Brooklyn and Romeo.
Elton John: 'Fatherhood my greatest wish'
http://www.digitalspy.co.uk/showbiz/news/a295196/elton-john-fatherhood-my-greatest-wish.html?rss
Wednesday, December 29 2010, 18:23 GMT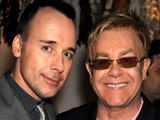 Elton John has admitted that he dreamed of becoming a father his entire life.
The 63-year-old music icon and partner David Furnish
welcomed
baby Zachary on Christmas Day via a surrogate mother, following the heartbreak of their
failed bid
to adopt a pair of Ukrainian brothers in 2009.
John told
Us Weekly
: "For many years we have talked about fulfilling one of our greatest wishes by becoming parents. And now this wish has been granted to us, we feel so blessed and lucky."
Meanwhile, Furnish stated that their new son would not affect the relationship they had built up with the Ukrainian orphans, Lev and Artyom.
"Although Ukrainian law does not permit Elton and I to adopt Lev and Artyom, we are determined to give them the best chance of living a happy and healthy life with a loving Ukrainian family. The arrival of our son has done nothing but strengthen our resolve to help these two wonderful children," he said.
"We are, however, constrained by Ukrainian policy and legal procedure, and this is why for the past 12 months we have retained a leading Ukrainian law firm to assist us in this process."
The couple were
denied adoption rights
in the Eastern European country due to their unrecognised civil partnership and John's age.

Elton John's baby - how newspaper readers reacted to the news
http://www.guardian.co.uk/media/greenslade/2010/dec/29/national-newspapers-elton-john


The news that

Elton John

and his partner

David Furnish

have adopted a baby boy got page 1 and/or page 3 coverage in most national papers today.

It was treated quite straightforwardly by almost every title. By which I mean, in general, there was an absence of snide homophobic spin.

But there was a notable disconnect between the largely "neutral" newspaper coverage and online comments from their readers or, at least, their websites' visitors.

Note first the largely empathetic headlines.

Sir Elton is dad at 63 as surrogacy heralds change in his circle of life

(

The Times

);

Goodbye Yellow Brick Road, hello nappies and sleepless nights

(

Daily Telegraph

);

You can tell everybody, this is our son: Elton John becomes a father at 63

(

The Guardian

);

Sir Elton John becomes a dad to baby boy born on Christmas Day

(

Daily Mirror

);

Sir Elton & Furnish welcome baby boy

(

Daily Express

);

Elton John has baby

(

Daily Star

).

The Sun

asked

Who's the daddy?

But it was not meant in a malicious way, and there was a wholly supportive sidebar by the paper's agony aunt,

Deidre Sanders

.

The

Daily Mail

was slightly more waspish in its approach,

Two fathers, two mothers - the unorthodox parentage of 63-year-old Elton John's baby is revealed

. By Mail standards it was kind enough.

Bel Mooney

, writing for the Mail, was certainly not pleased. In

Accessory children and the question: Who is my mummy?

she argued that she had nothing against gay couples raising children, but objected to "the ­modern phenomenon of babies as a celebrity accessory."

The Independent

, which clearly feels its readers are as uninterested in celebrity royalty as they are the monarchical variety, gave it much less space than the others with

no more than a picture caption.

But it was the first comment under the Indy's online version that caught my eye and prompted me to study threads on the other papers' sites. It said:
"An abomination of nature. Totally, and overwhelmingly, disgusting. The descent into the abyss has now passed the tipping point" - Epiphron
There were, in fairness, some countervailing comments below it. So what about the Mail's online response? At the time of writing (12.15pm), there were 78 comments.
They began with references to "that poor baby" and claims that it was a "disgraceful" and "decadent" act by the singer and his partner. "Nice new toy, Elton", wrote
Steve, Kingsbury
.
Amid some sympathetic comments ("just cos a guy is gay doesn't mean he can't feel paternal instincts... surely normality means consistent love, education and protection doesn't it?" -
Teena, South France
) the majority were hostile.
"On all levels, what ever way you look at this, it's so so wrong" - Roy, Green and pleasant land... "This is PC gone totally mental" - Please have mercy... "Poor people buy animals as pets, the wealthy buy humans as pets" - King David, Georgia, USA.
Among The Sun's 130 commenters, there were many who were supportive of the couple, with several offering their congratulations. Some worried over John's age rather than his sexual proclivity.
But the majority, by a slim margin, were opposed to the move, such as
Kindu5
: "whoever allowed this to happen should hang their head in shame!" Many agreed with him:
"I am sure that all right-minded readers will be as appalled at this news as I am myself! It is madness - sheer madness - to allow this 'odd' couple to be given custody of a child" - Calhoon
"I shudder at the idea of two old men raising a baby" - 2010Catweasel
"SOOOOOO WRONG" - PayMeAtHalftime
"Absolutely disgusting - there should be a law against anybody over 45 having a new born" - herreu
Express readers' were predictably hostile, but only nine of them bothered to comment. These are typical examples:
"And we are all supposed to celebrate this?" - freemycatfish... "It is totally sickening that these acts are lawful" - AlexanderDover... "THIS IS WRONG WRONG WRONG!" - mikegrunt4
Of The Times's 27 commenters, most were worried about Elton's age and the impact of his wealth rather than his gayness. But
Hopey
wrote: "This adoption makes me proud to be a bigot."
And
John Buckeridge
argued: "It is cringemaking for the Times to refer to Elton John's husband. Is this the wording of the press release? Is this how they wish to be known? Other than that good luck to them."
The Mirror encouraged debate with a piece headlined
Is Sir Elton John too old to be a good parent at 63?
But its website is so unpopular it rarely attracts commenters.
Of the two people who did respond, one,
Calhoon
, repeated his Sun message (see above), and the other,
JamesdelaMare
wrote: "This is really more like adoption than proper parenting. These two can't be proper parents. It's a mess and the newspapers shouldn't pretend otherwise."
Newspapers shouldn't pretend otherwise, eh? Well, I think they should. Though popular papers tend to avoid confronting their readers with an agenda that does not accord with the majority viewpoint, it is always heartening when it happens.
For example, though the majority of the population would almost certainly vote for capital punishment, no national newspaper has dared to advocate it (even though some editors and many journalists may well wish for the return of hanging).
Similarly, even though some editors and many journalists are anything but happy about gay rights, no paper would wish to be seen as openly homophobic.
Of course, this may well be viewed as a triumph for political correctness. And it probably is. So how about them onions?
We have fulfilled one of our greatest wishes by becoming parents': Elton John speaks for the first time.... as details of surrogacy clinic revealed
By
Sara Nathan
and
Sam Greenhill
Last updated at 10:40 PM on 29th December 2010
http://www.dailymail.co.uk/femail/article-1342482/Elton-John-baby-Zachary-details-California-surrogacy-clinic-revealed.html?ITO=1490
An emotional Elton John has talked for the first time about welcoming his and partner David Furnish's baby into the world.
Talking to American magazine Us, he said: 'For many years we have talked about fulfilling one of our greatest wishes by becoming parents.
'And now this wish has been granted to us, we feel so blessed and lucky.' The couple chose to break the news while in the U.S where they have been based ahead of the baby's Christmas Day birth.
New parents: Sir Elton John and David Furnish, pictured in Beverly Hills on Christmas Eve, have become fathers of a newborn baby boy named Zachary Jackson Levon Furnish-John

Elton, 63, and his civil partner David Furnish, 48, fulfilled their dream of having a child when their son Zachary Jackson Levon Furnish-John was born in Los Angeles on Christmas Day, weighing 7lb 15oz.
He was born to an unidentified surrogate mother who, it emerged last night, was not his biological mother but had carried the baby after being implanted with a donor egg from another mystery woman.
The complicated arrangement carried out by the Encino, California-based Center For Surrogate Parenting Inc - a favourite with
Hollywood stars - means that little Zachary effectively has two fathers and two mothers.
Surrogacy journey: The Center For Surrogate Parenting shared the news of their involvement in the birth of baby Furnish-John on their website
Statement: CSP confirmed they had worked with Elton and partner David, and called it a ' lovely, beautiful surrogacy journey for all parties involved'
The California-based clinic used by Sir Elton and David proclaimed the happy news of their involvement in the birth of the singer's son Zachary, on its website.
The Centre For Surrogate Parenting in Encino which helped the couple realise their wish to become parents said in a statement:
'CSP is proud to have helped David Furnish and Elton John become the proud parents of a baby boy on Christmas Day.'
Joanne Bubrick, programme administrator, said:
'
I can confirm that Elton John and David Furnish worked with the Centre for Surrogate Parenting and it was a lovely, beautiful surrogacy journey for all parties involved.'
Helping hand: Kelsey Grammer and ex-wife Camille had two children by the same surrogate mother through the centre, while Angela Bassett and husband Courtney Vance also had twins through a surrogate and the centre
The centre previously arranged for Frasier actor Kelsey Grammer and his ex-wife Camille to have two children by the same surrogate mother - their daughter Mason Olivia, in 2001 and son, Jude Gordon, in 2004.
And actress Angela Bassett and husband Courtney Vance became parents of twins, a boy and a girl, who were born through a surrogate in January 2006. Days Of Our Lives soap star Deidre Hall and former newsreader Joan Lunden also used the centre's
services to become parents.
Sir Elton and Mr Furnish meanwhile, who have been together for 17 years, successfully kept Zachary a secret from the world until three days after his birth.
They had previously been turned down for adoption because of Sir Elton's age. And the former drug addict recently said it would not be 'fair' on a child because of his advancing years and the amount of travelling he did.
He is due to begin a gruelling worldwide tour next month.
Thanks to California's surrogacy-friendly laws, Sir Elton and Mr Furnish are likely to have become Zachary's lawful parents straight away.
But the birth raises a number of questions. Nothing is known about the surrogate mother, her background, religion or marital status, and whether she has any rights over the child.
The same applies to his biological mother, the woman who donated an egg for the process known as 'gestational surrogacy'.
Another unknown is which man is the baby's true father – if either of them.
No matter how puzzling his parentage, Zachary is likely to have A-list stars as his godparents.
Sir Elton is godfather to David and Victoria Beckham's son Brooklyn, 11, and last night Mrs Beckham said: 'David and I are absolutely thrilled for Elton and David. They have so much love to give and will be wonderful parents.'
Elizabeth Hurley, 45, is also lined up as a potential godmother. The actress used the singer's country estate as a bolt-hole after the arrival of her son Damian, now eight, and made Sir Elton the boy's godfather as a thank-you.
A spokesman for Sir Elton said the proud fathers were still in LA. In a statement, the couple said: 'We are overwhelmed with happiness and joy at this very special moment.
'Zachary is healthy and doing really well, and we are very proud and happy parents.'
The identity of the surrogate mother is a closely guarded secret. But unlike elsewhere in the world, it is not illegal in California for a multi-millionaire such as Sir Elton to pay a significant sum of money to buy a baby.
If she was paid, a surrogate mother could in theory have become very rich after successfully delivering Zachary. It is likely she would have signed a strict confidentiality agreement never to speak about the deal.
Nor has it been announced which, if either, of the men is the biological father. However last night friends of the couple speculated that Canadian filmmaker Mr Furnish was the true father.
NHS experts recommend sperm donors should be under 40, because evidence suggest genetic abnormalities are more common in older fathers. If they had followed such advice, it is more likely that Mr Furnish's sperm was used in the conception.
Sir Elton and Mr Furnish have opted for traditional names for their son. Zachary is of Hebrew origin, and means 'The Lord recalled', while Jackson is of Old English origin and simply means 'Son of Jack'.
The name Levon is the title of a track on Sir Elton's 1971 album Madman Across The Water, which contains the line: 'He was born a pauper to a pawn on a Christmas day.'
The godmother? It is predicted the couple will ask their close friend Elizabeth Hurley to be Zachary's godmother
Sir Elton, worth an estimated £175million, met Mr Furnish in 1993 at a dinner party. On December 21, 2005, they 'married' in a civil partnership ceremony at Windsor Guildhall.
Zachary is the first child for both men. The couple made their surprise announcement of his arrival to American magazine Us, adding that out of respect for the surrogate mother's privacy they would not disclose any further information.
Sir Elton, previously married to a German woman, Renate, had spoken of his desire to become a father.
When his long-term keyboardist, Guy Babylon, died of a heart attack aged 52 in September last year, Sir Elton said: 'What better opportunity to replace someone I lost than to replace him with someone I can give a future to?'
A kiss for Lev: Sir Elton cuddles the little boy, who he wasn't allowed to adopt, on his visit to a Ukrainian orphanage in September 2009
But he and Mr Furnish then made a failed attempt to adopt a 14-month-old HIV-positive boy called Lev from an orphanage in Ukraine. They were rejected because of Sir Elton's age and the fact that the country did not recognise gay partnerships.
Later, the singer suggested that having a child could be inappropriate. He said: 'David always wanted to adopt a child and I always said no because I am 62 and I think because of the travelling I do and the life I have, maybe it wouldn't be fair for the child.'
Sir Elton is about to begin an arduous 26-date concert tour of the U.S. and Europe, lasting from January to June – raising the question of who will look after Zachary.
The tour will begin in France on January 26 in Lievin, and finish in Ireland on June 11. As well as travelling to European countries such as Switzerland and Germany, the singer also has scheduled performances in the U.S. and Canada.
Lev, the baby boy he wasn't allowed to bring home
Charitable: Sir Elton played piano for children at the orphanage
By

KATHRYN KNIGHT
With his big brown eyes and toothy grin, it was easy to see how a little Ukrainian orphan boy known only as Lev melted Sir Elton John's heart when he snuggled into his arms last year.
Despite his poverty stricken upbringing, Lev, then 14 months, exuded babyish delight at his world, giggling and smiling as he played with the stranger who had come to visit.
For, until that point, the orphanage in a bleak industrial town on the Russian border – where he'd been dumped by his alcoholic, HIV-positive mother seven months earlier – was all this little boy had ever known.
The image of Lev sitting on the singer's lap when he visited the Makeyevka Children's Orphanage in September last year was broadcast across the globe.
Sir Elton and David Furnish were visiting the institution, in the country's worst HIV-affected area, after their Aids foundation donated more than £1.4million to the region.
Elton, then 62, asked to adopt Lev, but barely a day after his departure he was ruled 'too old', while his civil partnership with David was unrecognised by Ukrainian authorities.
There was nothing the broken-hearted couple could do but bow to the red tape.
Lev probably forgot the cuddly stranger in an instant; the only reminder of that day was the shiny new piano in the playroom bearing the inscription 'With my Love, Elton John'.
Was it this encounter which set Elton and David on the difficult path which was to see them becoming parents of their own child? Having spent a day the orphanage myself, weeks after Elton's visit, I can see why it might have been.
When I visited there were 80 babies and toddlers, aged under four, housed in a crumbling 1960s block, one of three government-funded orphanages for children of HIV mothers. They were the victims of the Ukraine's crippling Aids epidemic, fuelled by drug use and unprotected sex.
Orphanage director Victor Goncharov told me: 'There is no real culture of adoption in Ukraine, and certainly not of children with HIV. There is a huge stigma.'
Lev was likely to stay in institutions until he reached adulthood. And even though the Makeyevka children were loved by the staff, that love had to be spread pitifully thinly because of a lack of resources.
As I left, a nurse struck up a Ukrainian folk song on the treasured piano. The soulful music drifted through to Lev, taking his afternoon nap the cot-lined dormitory.
He no doubt continues to live his life anonymously within the orphanage walls. But I hope it is a life filled with music, as Elton John wanted.
Now gushing tributes from the Twitterati
By

SARA NATHAN

and

SIMON CABLE
The baby's arrival led to an outpouring of gushing messages from a host of his fathers' celebrity friends.
Model and actress Elizabeth Hurley was the first to congratulate them on Twitter, writing: 'Massive congratulations to David and Elton on having their beautiful son. Can't wait for my first cuddle.'
Sir Michael Caine offered his wishes, saying: 'Great news about Elton and David adopting a child, let's hope more people are granted adoption.'
Apprentice star Lord Alan Sugar expressed disbelief at the news, tweeting: 'Am I hearing things right on Sky news Elton John becomes a surrogate father.' He added about an hour later: 'Oh well congratulations to him.'
Tribute: Hurley, whose own son Damian is godson of the couple, sent her congratulations on Twitter
And TV Presenter Piers Morgan, who recently interviewed Sir Elton for his ITV series Life Stories, was also caught out by the unexpected news, writing: 'Feel such a fool – Sir Elton never even hinted he was pregnant during our interview.'
Former Spice Girl Emma Bunton wrote: 'Congratulations to Elton and David', while singer Boy George wrote on his Facebook site: 'Wow, surprise news about the baby, congratulations!'
Amanda Holden tweeted: 'So thrilled for Elton John and David Furnish! How wonderful life is – when you become parents!'
Mr Furnish had hinted at the looming arrival on Christmas Day when he wrote on his Facebook page that he was 'on course to have the best Christmas ever!'
Hours later he broke the news of Zachary's birth and revealed that he had never believed his dream would come true. In a message to a friend, the Canadian said: 'I'm overwhelmed… I never, ever, thought I would be a dad.'
From one Sir to another: Sir Michael Caine congratulated the pair, after initially believing they had adopted
Best wishes: Emma Bunton, who is pregnant with her second child, congratulated the couple on her Twitter page
Sir Elton and Mr Furnish, who married in a civil ceremony in 2005, had said they were still keen to have a child of their own after plans to adopt a 17-month old HIV positive boy called Lev from the Ukraine and his three-year-old brother fell through last year.
The couple usually spend Christmas at their one-bedroom flat just off St Mark's Square in Venice, a place they call 'a haven where we can completely unwind'.
However, last week, Mr Furnish told the London Evening Standard's ES magazine: 'This year we'll be having a very different Christmas in LA. We'll try to replicate what we do in Venice, with a quiet breakfast and lunch at the Beverly Hills Hotel.
'What I look forward to most is spending peaceful time with Elton and of course, Arthur and Marilyn (their dogs). That's the real blessing: Having the chance to reflect on the year that's passed and think about the year that's coming.'
The £35,000 nursery
The new fathers have already spent £35,000 designing and decorating a nursery for their son.
The pair have enlisted the help of their friend shoe designer Patrick Cox to help them put the finishing touches to the 'palatial' room at the their Windsor mansion, Woodside.
They are said to have splashed out thousands of pounds furnishing the room with 'one-off, tailored furniture items'.
A source said: 'Elton and David began planning the nursery months ago. They wanted it to be ready for when the baby came home. It will be very lavish when it is finished. They like to make big statements.'
It is a clear indication that the couple plan to bring up their child in Britain, even though they will have to wait a few weeks to bring him home.
The friend added: 'England is where their heart is. There is no way they would move to America full time.'