Elton John plays revamped Billings' venue
http://www.greatfallstribune.com/article/20110412/NEWS01/104120310/1002/Elton-John-plays-revamped-Billings-venue
Invalid:undefined Date, Date. NaN, NaN |
Comments
BILLINGS
— The Metra defied Mother Nature, Sir Elton John defied Father Time and the crowd tested the arena's new roof during a sold-out concert Sunday night.
The legendary 64-year-old pianist, songwriter and singer brought the crowd to its feet as he took the stage, and the more than 10,000 fans rarely sat down for the next 2 hours and 45 minutes as the Rocket Man took them on a journey through a career of hits spanning four decades.
The concert marked the first large-scale event in the Metra since a tornado tore the roof of the building and upended many of the seats on June 20 last year — and John's first time playing the Magic City.
Many concert-goers commented on the Metra as they entered the arena up to two hours before the show started, but the talk soon turned to the Rock and Roll Hall of Famer, who has sold more than 350 million albums and entertained concert-goers worldwide on countless tours since the early '70s.
Scott Reid of Billings anxiously awaited the show by posing for pictures with other fans. Reid, who dressed in a yellow boa, shiny green suit and musical note eyeglasses, was a popular photo mate for other fans — many of whom were decked out in similar John-inspired getups.
"It's just part of the fun of the concert," Reid said of dressing up.
Though Reid, 16, was one of the younger people packing the floor Sunday, he definitely was in the running for biggest fan.
"I'm a big Elton John fan because ... I connect with what he's trying to say and I just love his music," Reid said. "I try not to think of the whole generational thing."
Another big John fan was Annette Robison of Billings, who won two floor seats from a local radio station after failing to get a ticket quick enough when they went on sale and subsequently sold out.
She attended a live event and drawing Thursday, and though she missed out on the 6 p.m. drawing, her name was read at 8 p.m. that night, giving her two fifth-row seats.
"When they first said Annette, I let out a 'whoop,'" she said.
Robison took her mother, who saw John in concert in Las Vegas several years ago, to the Billings show.
"It'll be just such wonderful memories," Robison said.
Once John took the stage shortly after 8 p.m., he provided memories for the capacity crowd until almost 10:45. He sang, jumped, pumped up the crowd, yelled and spoke of his career and his fans. And, of course, he played hit after hit — oftentimes without stopping in between— starting with "Funeral for a Friend/Love Lies Bleeding" and "Saturday Night's Alright (for Fighting)."
The artist's energy was contagious, as the crowd clapped, danced and sang along all evening. Throughout the night, John lengthened his songs, often for several minutes, by adding a piano solo in the middle or at the end of many pieces. Though the sound of John's playing was enough to whip the audience into a frenzy, the crowd was able to appreciate his talent even more because of a camera mounted on the piano that showed John's fancy finger work on a large screen on either side of the stage.
While the man at the piano was the star, every band member got a chance to shine, as did the backup singers, including Rock and Roll Hall of Fame member Rose Stone, a founding member of Sly and the Family Stone.
After playing "Tiny Dancer," which tested the Metra's new roof as much as any song to that point — the crowd sang every lyric, John said he would "go stark-raving crazy" if he didn't play his newer material. He then played "Gone to Shiloh" and "Hey Ahab" off the 2010 album "The Union."
The brief segment of new music ended when John started the first few notes of "Candle in the Wind," causing the audience to stand and drown out the next few bars with cheers and applause. The song quickly turned to a kind of electronic vigil as audience members held up hundreds of cell phones and light-up John eyeglasses as they swayed their arms to the music. Several lighters were flicked early on, but the Metra staff quickly snuffed them out for safety reasons.
From there, John switched to "Don't Let the Sun Go Down on Me," then went into an up-tempo set that started with "Bennie and the Jets," and ended with "Crocodile Rock."
John thanked the crowd after a high-energy version of "Crocodile Rock," and then signed several pieces of memorabilia before leaving the stage. However a deafening roar brought him back to dedicate the encore, "Your Song," to each member of the audience before ending the show.
http://www.trapperman.com/forum/ubbthreads.php/topics/2547600/Way_OT_Elton_John_Concert.html
Paula


"Gimp"

Registered: 07/27/09
Loc: Corydon, IN
Sorry this is way off topic, but fur money helped buy these tickets so its is trapping related. My husband got me tickets to see Elton John last night as an early B-Day present. I realy like his music and my sister in law took our son for the night so we had a date for the first time in 9 years. If you like his music and get a chance GO GO GO. He put on such a good show. Three hours of nothing but the hits. The man is like 64 years old but dang he puts on a show. He is not my husbands cup of tea, but we both had a realy good date. I never seen a guy move his fingers on a piano so fast. Just and increadible experience. Now I can get ready for turkey hunting while singing yellow brick road in my head... LOL Tman is such a big part of our lives I just wanted to share.......Paula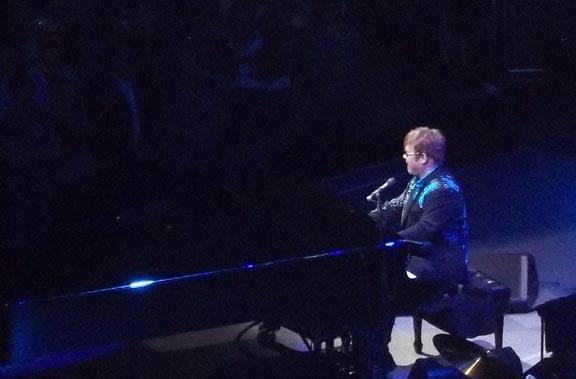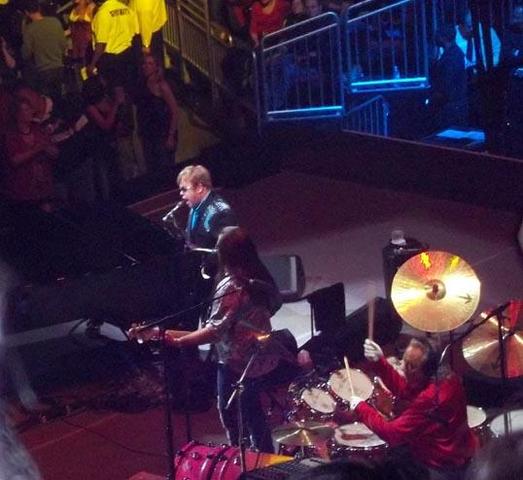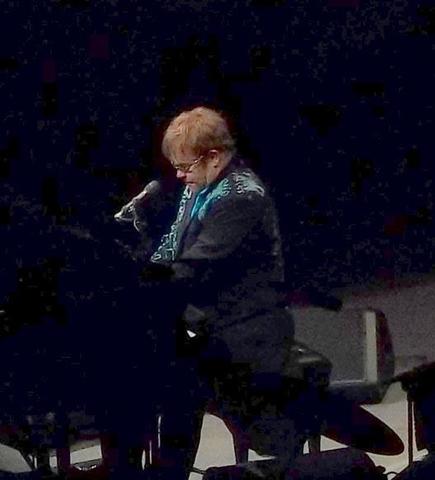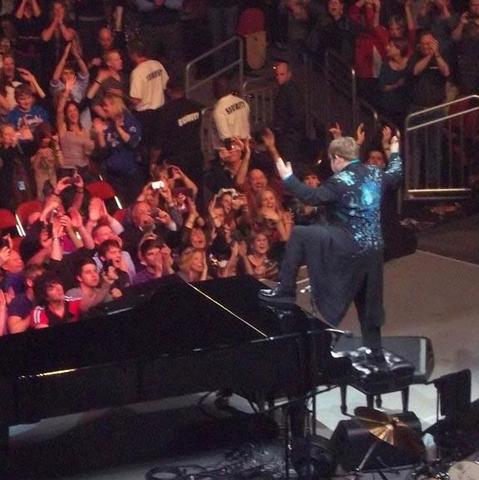 Tribute to Bernie Taupin performed for Taupin & Costello
http://forums.prospero.com/n/pfx/forum.aspx?tsn=1&nav=messages&webtag=eltonjohn&tid=7740
had the opportunity to see a live intimate performance of this great tribute song to Bernie Taupin.
In the audience was Mr. Taupin himself, Elvis costello and only 50 people (including myself).
The song was performed by singer/songwriter Pat Kelly and is called
"BROWN DIRT COWBOY"
. Another amazing thing about the song is that there is an anagram in the lyrics that spell out "Bernie Taupin Thank You".
The song can be heard and seen on YouTube and I don't think it has been commercially released.
It should! It's an amazing song and tribute to both Mr. Taupin and Sir Elton. check it out type "Brown Dirt cowboy -Pat Kelly" in the youtube or google search engines.
COMMENTARY
Geri Parlin: Growing up on Elton makes tickets icing on the cake
http://www.winonadailynews.com/news/local/article_637e9054-689e-11e0-bf1a-001cc4c002e0.html
There's just something about Elton John. It could be that long history of flamboyant costumes and outrageous behavior. Could the glasses get bigger or the boas any brighter?
It could be that seemingly endless list of hits that includes songs ranging across four decades with musical images such as "Daniel," "Tiny Dancer" and "Candle in the Wind" burned into our collective consciousness. It could be that he is always in the news - throwing a party or fundraiser for AIDS research or writing for a hot new Broadway show.
But more likely it is that he is a huge and lasting talent whose own candle never seems to flicker in the wind. He is always with us, always touring, always sharing the joy of the music.
Much of that flamboyance has dissipated. Elton is, after all, a father now. He is in his 60s. He has settled down, settled in, and it's difficult to vault over pianos.
Did he ever really need those big glasses and feathered boas anyway? Don't "Burn Down the Mission," "Rocket Man" and "Captain Fantastic and the Brown Dirt Cowboy" stand on their own merits?
For those of a certain age - 40 is so far in the rearview mirror that even corrective lenses can't locate it - Elton is the soundtrack of our lives.
We were touched by "Your Song" in our confusing teens. We celebrated "Captain Fantastic and the Brown Dirt Cowboy" while we studied for finals in college. And when we thought we'd heard the last of him, he joined Kiki Dee in singing "Don't Go Breaking My Heart" in 1993.
Unlike some oldies acts that tour on the backs of their 40-year-old hits, Elton is always doing something new. His latest is a collaboration with Leon Russell.
Most enduring, though, are those collaborations with Bernie Taupin.
With Elton writing the music and Bernie supplying the lyrics, it was a sure-fire winning combination:
"Burn down the mission
"If we're gonna stay alive
"Watch the black smoke fly to heaven
"See the red flame light the sky
"Burn down the mission
"Burn it down to stay alive
"It's our only chance of living
"Take all you need inside."
So Elton John is coming to La Crosse. If you are like me, one of the lucky 6,700 or so folks who snagged a ticket, you should be on time for the 8 p.m. concert because Elton always starts on time. He wants you in your seat, quietly settled and ready to listen. Gone are the days of rowdy general admission concerts. Elton is older and so are we, and he is giving us the opportunity to sit comfortably in our reserved seats and actually hear the music instead of the super fan next to us yelling out, "We love you Elton!"
(Please don't do that. You likely paid over $100 for your ticket, so Elton knows you love him and so does everyone sitting around you.)
Your reward may be as much as three hours of music. He has played that long in some markets on this tour. He has no opening act, though Leon Russell sometimes shows up to sing some of their new music.
With that much time, Elton will likely sing the song you most want to hear - "Rocket Man," "Tiny Dancer," "Philadelphia Freedom," "Sorry Seems to Be the Hardest Word" or "I Guess That's Why They Call It the Blues."
If he doesn't, well, that's what your iPod is for, isn't it?
For this one night, it is enough that Elton John is coming to La Crosse to share that big, bold, brassy world of his with us. We didn't get to see the Beatles here, or the Rolling Stones, or Billy Joel. We even missed out on Bruce Springsteen at the old Mary E. Sawyer Auditorium - the show canceled due to low ticket sales.
But we're getting Elton John.
We stood in line, we raced to the Internet, and we plunked down our credit cards. It's time for Elton to burn down the mission in La Crosse.
FREE Elton John Concert!!!
Elton John
will kick of the 10th Tribecca Film festival on Wednesday, April 12th, with a
FREE
concert at the 'World Financial Center Plaza'. So what you waiting for, see the legendary performer sing all your favourite hits and take in the atmosphere as the first night of the festival is
FREE!!!
Date:
April 20th 2011
Location:
World Financial Center Plaza
Time:
8.00 pm -11.00 pm
Website:
www.tribecafilm.com/festival/