Elton John and Bernie Taupin, lovingly interpreted by Regent Dwight Project.
RegentDwightProject
Live from Archives Studios, it's Elton Hilburn and Nigel Wholesome, performing "Grimsby" from the 1974 album "Caribou." Videography by MAF, August 10, 2011.
http://www.eltonjohn.com/news/article.jsp?ymd=20110817&contentid=23337092
Elton and Billie Jean King. Photo:Fred & Susan Mullane/Camerawork USA
August 17, 2011
Elton and Billie Jean Smash Hits Cleveland
Annual Charity Tennis Tournament October 27
On October 27, Elton and Billie Jean King are bringing their annual World TeamTennis (WTT) Smash Hits charity night to Cleveland for the first time in the event's 19-year history.
Tennis greats Andy Roddick, Martina Navratilova and French No.1 Amelie Mauresmo will join other top players for WTT Smash Hits presented by GEICO on
Thursday, October 27, 2011, 7pm ET at the Public Hall in Cleveland.
Tickets for the one-night event go on sale on Tuesday, August 30 at 10 am ET and can be bought via
WTT.com.
Smash Hits has raised more than $10 million for the Elton John AIDS Foundation (EJAF) and various local AIDS charities since 1993. This year's event will benefit EJAF and the AIDS Taskforce of Greater Cleveland. The funds raised at the pre-match Smash Hits VIP Reception will be specifically targeted for local programs.
The players will form two teams captained by Elton and Billie Jean respectively, and Elton will also participate in a celebrity doubles match to open the event. Additional participants will soon be announced.
Elton and Billie Jean are currently neck and neck with nine wins each since Smash Hits began!
Family Photo: The Furnish-John's Young Yachter
Land ho!
Zachary Jackson Levon
, 7 months, is all smiles after coming ashore in Saint Tropez, France with dads
Elton John
and
David Furnish
on Thursday. The couple
were recently joined
on their yacht by
Neil Patrick Harris
, his partner and their twins.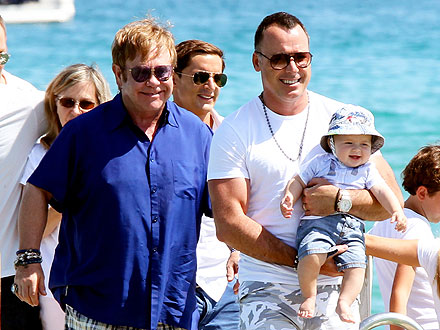 NASHVILLE, TN. (April 20, 2011)
World-renowned singer, songwriter and Yamaha pianist
Elton John
will return to
The Colosseum at Caesars Palace
this fall with an all new show,
The Million Dollar Piano
, named after a stunning, one-of-a-kind instrument made exclusively for him by Yamaha.
A team effort between
Yamaha Entertainment Group
and
Elton John
, the million-dollar piano has been 4 years in the making and is called such because it cost $1 million to create. The designers and engineers from Yamaha Pianos in Hamamatsu, Japan worked with Elton John to bring his vision to life. The result is a spectacular, highly modified
CFIIIS
grand piano, representing a marriage of tremendous technology and art. There will be only 2 made in the world: one for Elton John and one that Yamaha Entertainment Group will help auction off for charity at the end of the Las Vegas engagement.
"A major visual component of the overall experience, this custom-made, state-of-the-art piano will be a stunning addition to Elton's show," said Chris Gero, Vice President and Head of Yamaha Entertainment Group. "We think you will be blown away when you see the entire production on stage."
The
Million Dollar Piano
debuts Sept. 28 and will run for 16 shows, marking the beginning of a three-year residency at The Colosseum and Elton's second as a Caesars Palace headliner. The first was for his production
The Red Piano
, based on another collaboration between him and Yamaha.
"Caesars Palace is just a perfect, idyllic place to play, and the show will be a gargantuan feast of music and imagery," said Elton. "I'm going to have a fabulous piano that Yamaha has been working on for four years, and that's the reason why the show is called 'The Million Dollar Piano.'"
Tickets for the first sixteen performances of
The Million Dollar Piano
go on public sale on Monday, April 25 at 10 a.m. PST. These 16 dates are Sept. 28, 30, Oct. 1-2, 6-9, 13-15, 18-19, 21-23. Tickets may be purchased in person at The Colosseum at Caesars Palace Box Office, open daily from 10 a.m. to 10 p.m. PST, as well as online at Ticketmaster, keyword Elton John.
For more information on Yamaha artists or Yamaha Entertainment Group, please visit
www.yamahaartists.com
or
www.facebook.com/yamahaentertainmentgroup
.
"My Baby Loves Lovin" - Cottonfields" - Lady D'Arbanville" - "Natural Sinner" - "United We Stand
"
http://forums.prospero.com/n/pfx/forum.aspx?tsn=29&nav=messages&webtag=eltonjohn&tid=7710
In 1994, RPM company in Britain released an album entitled Reg Dwight's Piano Goes Pop. This album collects together Elton's contributions to a variety of "sound-alike" covers albums issued during 1969 and 1970.
This CD was the first reissue of 20 of those anonymous tracks since they were released back in '69-70. After it was withdrawn, the tracks were released on another CD by the same label, entitled Chartbusters Go Pop. The full name to the latter release was Chartbusters Go Pop! 20 Legendary Covers from 1969/70 as Sung by Elton John. Yet another edtion was released in 2001 which includes sixteen of the original compilation's twenty tracks.
The following quote is from Wikipedia: "These recordings - - are taken from a variety of periodically-issued budget-priced compilations of hit songs, under brand names including Top of The Pops, Chartbusters and Hot Hits. These were issued by budget labels including Music For Pleasure and featured current or recent hits re-recorded, with varying degrees of note-for-note accuracy, by nameless 'soundalike' performers. Like many other jobbing session singers of the time, Elton John worked as a vocalist on these albums. He specialised in copying the vocal mannerisms of the original singers of soul and rock hits.
"These covers compilations were cheaply recorded, cheaply priced, and sold in large quantities until, in 1972, compilations featuring the original artists were introduced by such labels as K-Tel. The public obviously preferred to buy the original recordings and the era of the cheap cover compilations quickly came to an end."
The 1994 CD booklet includes a thorough look on the subject, written by Tim Joseph. In his essay, Joseph writes: "If the aim of these tracks was to sound as close to the original single as possible, it could actually be argued that Elton failed totally in his job! Despite the fact that he is meant to be a great mimic - -, every track here sounds like nobody other than Elton John himself. For which - - we have reason to be grateful, because throughout this disc Elton puts on the kind of performance one might have thought he would reserve for his own recordings. Quite simply, on several of the tracks Elton rips the original to shreds."
The first track on Reg Dwight's Piano Goes Pop is "My Baby Loves Lovin'", which was the top selling single (UK #9./US #13.) for the group White Plains. The song, which was written by Roger Cook and Roger Greenaway, was released on January 1970.
The group White Plains didn't exist as an actual recording band. They were merely one of the showpeices for studio singer Tony Burrows, who sang lead and recorded under many different band names; it was an ingenious marketing ploy to create record sales. One of the most well-known chart hits where Burrows sang lead is Edison Lighthouse's chart-topping single from 1970, "Love Grows (Where My Rosemary Goes)". He also sang lead vocals on The Brotherhood of Man's "United We Stand", which reached #10 on the UK charts and which is also track number five on this collection.
The next track "Cotton Fields" is a song written by blues musician Huddie Ledbetter, better known as Lead Belly. The Beach Boys released the song as "Cottonfields" on a single on April 1970, and it became a big hit in the UK. The version on their 1969 album 20/20 was different, although both versions featured Al Jardine as lead vocalist.
"Lady D'Arbanville" was written by Cat Stevens and issued on his third album Mona Bone Jakon in 1970. Released as a single, this track reached #8 on the British pop charts.
"Natural Sinner" was originally performed by Fairweather, a British rock band formed in 1970 by former Amen Cormer guitarist and vocalist Andy Fairweather Low. "Natural Sinner", which went to number 6 on the UK singles chart, was their only hit record.
"United We Stand" is a popular song by Tony Hiller and Peter Simons. It was first recorded in 1970 by The Brotherhood of Man, who scored a worldwide hit with it. The song, which became the band's first hit (UK #10./US #13.) is considered a worldwide standard and has been recorded by more than 100 artists, according to Wikipedia.