Elton John announces his 'most exciting record' in years
Singer says The Diving Board is his best solo LP 'in a long time'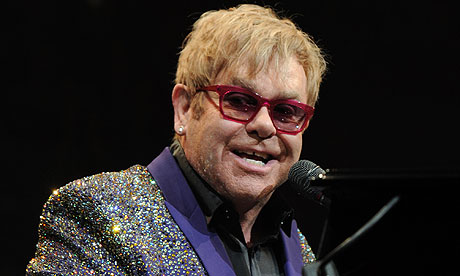 Elton John
has announced his 31st studio album, which he has called "the most exciting solo record I've done in a long, long time". Mostly recorded with a two-piece band, The Diving Board will be released this autumn.
"Quickest record I've ever made," John told
Rolling Stone
magazine. The singer didn't expect to make a new album, he said, so soon after 2010's The Union. When longtime collaborator Bernie Taupin sent him some new lyrics, John – who was on holiday – "didn't even look at them". "But I said: 'I'll go into the studio and if it doesn't work out, it doesn't matter.'"
Instead of a wasted session, The Diving Board "just came flooding out", John said. Working with producer T Bone Burnett, with whom he and Leon Russell recorded The Union, John wrote six new songs in just 48 hours, and recorded the whole thing in less than four days. "It was T Bone's idea to get back with piano, bass and drums," John explained. "He said: 'Let's start with that.'" They recruited drummer Jay Bellerose and bassist Raphael Saadiq, with guitarist Doyle Bramhall appearing on two tracks.
The album recalls some of John's earliest work, according to Rolling Stone, such as his live album 11-17-70. "As I said with The Union," John said, "I had to go back to go forward."
In addition to the new album, John is working on a book of reminiscences from the
Aids epidemic
. Plans are also advancing for a proposed biopic, which could star
Justin Timberlake
. "We're searching for a director," John's partner, David Furnish, recently told E! "There's no race to make this. We're just going to take the time to make it right."