...::: MARC BOLAN & T. REX: BORN TO BOOGIE :::...


The Soundtrack Album
...::: MARC BOLAN & T. REX: BORN TO BOOGIE :::...


The Soundtrack Album
T. Rex (band)
DISC 1:


BORN TO BOOGIE


The Motion Picture Soundtrack
1. Intro
2. Jeepster
3. Baby Strange
4. Electric Wind - (poem)
5. Tutti Fruitti - (with Elton John/Ringo Starr)
6. Children Of The Revolution - (with Elton John/Ringo Starr)
7. Look To The Left - (with Ringo Starr)
8. Spaceball Ricochet
9. Some People Like To Rock - (with Ringo Starr)
10. Telegram Sam
11. Some People Like To Roll - (with Ringo Starr)
12. Cosmic Dancer
13. They've Come 'Tis Said
14. Tea Party Medley
15. Union Hall - (poem)
16. Hot Love
17. Get It On
18. Children Of The Revolution - (reprise)
19. BBC Interview With Marc Bolan From Late 1971
...::: DOWNLOAD :::...
http://www.megaupload.com/?d=VXH5I7GJ
DISC 2:


T. REX IN CONCERT

18th March 1972
1. Rosko's Intro - (with Emperor Rosko)
2. Cadilac
3. Jeepster
4. Baby Strange
5. Spaceball Ricochet
6. Girl
7. Cosmic Dancer
8. Telegram Sam
9. Hot Love
10. Get It On
11. Just One More - (with Emperor Rosko)
12. Summertime Blues
http://www.megaupload.com/?d=I000F6P3
This DVD finally brings together not only the restored BORN TO BOOGIE, but also a multitude of extras, including two live concerts in which Bolan and his associates are at their peak. It's interesting to contrast the two performances; in the 5:30 show, the acoustic set is much stronger; in the 8:30 show, the electric stuff is sensational, leading off with a rousing version of CADILLAC. The restoration of the image from 16mm is absolutely first rate; most of the footage was rescued, along with the original stereo recordings, from 100s of rusting film cans in Ringo's garage. Tony Visconti, who worked with Bolan during his key era, did the remastering of the soundtrack, and it's absolutely remarkable; no distortion, and great presence. There are also interview extras, a long piece on the restoration of the film, outtakes with Elton John and Ringo during a jam session, and much, much more. As someone who saw T Rex three times in the US (at their first Carnegie Hall gig, which was a triumph, though the audience simply didn't get it; at the Palladium in NYC on 14th street, where Bolan pleaded with the audience to no avail to "get it on," and finally at a tragic gig at a dump called The Joint in the Woods in New Jersey, shortly before his untimely death), I've always felt that Bolan was severely underrated. Now, here's the proof in 2005 that T Rex, which during its heyday was responsible for 25% of all record sales in the UK (yes, that's right), was one of the masters. Buy, enjoy, and play loud. The movie itself is something of a mess, with a number of useless fantasy sequences that don't come off, but the two concerts more than make up for it; this is rock and roll history, and a copy of this should be an essential in every collection.
Now you can show everyone what we've known for years!
Finally! Given T-Rex was under-appreciated in the U.S., I've always been asked what Marc Bolan and the boys were all about! Now I can simply play this wonderful 2-disk dvd and show everyone. This is the ultimate for any Bolan fan. The production is beuatiful, the sound is fantastic, and you get many additional extras including an excellent look into the restoration process, interviews with producer Tony Visconti and Marc's son, Rolan.
Filmed by Ringo Starr for Apple Films, the DVD includes the original theatrical release of Born to Boogie, as well as full coverage of the 5:30PM and 8:30PM Wembley Pool concerts. The movie has its moments, the highlight being a splendid run through Children of the Revolution in the studio with Elton John and Ringo sitting in. That version is even better than originally released single. I could do without the rest of the surreal fantasy scenes that interrupt the concert footage, but it reflects the same playful strangeness seen in Magical Mystery Tour. Given both concerts are included in their entirety, you lose nothing even though 3 songs from the 8:30 show don't make the original movie.
As for the music, it's absolutely peak T-Rex. As was the norm for 1972, both the early and late shows are 1-hour and have the same set list. Nonetheless, they are markedly different. The 5:30 show is a bit ragged, and Bolan is plagued with microphone problems (he literally has to follow the swaying microphone back and forth while singing Telegram Sam). In addition, Bolan's guitar is turned too low in the first show and the rest of the band seem a bit stiff. Yet, it still reflects a band at its creative apex (having hit it big with Electric Warrior and completed many tracks for The Slider). The second show is AWESOME and worth the purchase by itself! The band is tight, Marc's guitar is loud and driving, and the energy exchanged between Bolan and the crowd drives the set forward to increasingly intense musical peaks. I did notice that Tony Visconti (who mixed the DVD) adds some subtle lead guitar lines here and there that are clearly not being played by Marc on stage, but this is not a distraction and there are plenty of true leads played, especially as the late show fires up. The songs are as fresh today as they were in the 1972 days of T-Rexstacy. What's great is that T-Rex fans get the total live experience they've craved for years AND the unfamiliar viewer will finally "get it" and "get it on" with Marc and T-Rex. As an avid fan for over 30 years, I can finally say "I'm satisfied!" You will be too!
BOLANS HOLY GRAIL
Wow..this is awesome!! Currently on vacation here in jolly olde England and just had to buy this DVD !! You will not be disapointed..its the ULTIMATE BOLAN EXPERIENCE !!Whoever put this together deserves a Knighthood..its not just the Born To Boogie movie which has been cleaned up and looks Fab..sounds Fab
.Us Rexers have seen it a million times on poor VHS or Bootleg..Its the Extras that just blow you away…The 5.30 afternoon concert is Bolan at his best..the colors, sound, energy is unbeleivable.Marc was only 24 when he strutted his stuff and boy does he look likes hes having a blast.I forgot how Beautiful Mickey Finn was..its such a shame that they are no longer here..
How this film has rotted in a basement for the last 33 years is a crime.Top Hats off to Rolan, Sanctuary, Martin Barden and" all the cats..you know who you are" for having the balls and passion to bring this out for the masses.It must have cost a fortune to clean up and I hope it sells by the truckload.
I was a Bolan Childe in the 70s and seeing this wonderous 5 hours today brought a tear to my aged eyes..it really was like 1972 again and I hope the star that Marc was/is will still be allowed to shine..big time.
Thanks Ringo for giving your blessing and especially to Rolan who never got the chance to really know his Father…remember Marc made SO many people happy..as he says in the film."your'e my People"…pass the kleenex.
Sorry to ramble but this is the Bolan Holy Grail..so much to see,feel and just be..there are so many jewels in this crown…BUY it ..darken the room,open the champagne and ROCK On..You will not be sorry ..honest..
Amazon.com
Marc Bolan had the looks, style, and bearing of rock star, and T. Rex: Born To Boogie offers proof positive that he was just that. But comparing yourself to the Beatles doesn't make it so, even if you get Ringo Starr to produce, direct, and appear in your movie. In terms of the things that matter, like singing, guitar playing, and songwriting, Bolan (who died in 1977) fell a ways short. He was hugely popular for a year or two; he and his band T. Rex loved to rock, and they had some catchy, riff-based hits, like the infectious "Get it On (Bang a Gong)," performed at length here. Still, image, attitude, and lyrics like "I wanna call ya/I wanna ball ya") can only get you so far, even in the pop music world. That's not to say that Born To Boogie isn't good fun, especially some of the 1972 concert sequences filmed (by Ringo himself) at London's Wembley arena and a couple of studio jams with Starr and Elton John (on the other hand, the lame filler between live tunes is what happens when nagging details like a story or a script matter less than simply having a stoned good time). And what this handsomely packaged two-disc set has in spades, along with fine, painstakingly-restored sound and picture, is bonus features, including extended concert footage and a couple of good documentaries narrated by Bolan's son, Rolan. It ain't deep, but if you're looking for a good time, you've come to the right place. –Sam Graham
Rolling Stone Magazine, June 2,2005
Four Stars!
MARC BOLAN & T. REX: BORN TO BOOGIE
Información de Descarga
Formato: 2 DVD9
Compresión: Winrar (Sin Compresióm)
Tamaño: 6,01 GB + 7,29 GB
Registro de recuperación: SI
Caratula: SI
Menús: SI
Passwod: rebotes
Cosmic Rock Documentary
Re-Born To Boogie Restoration Feature
T.Rextras Outtakes, Interviews and much more...
Commentary by Tim Van Rellim and Mark Allen



Atributos de vídeo:
Modo de compresión de vídeo: MPEG-2
Sistema de TV: 625/50 (PAL)
Relación de aspecto: 16:9
Resolución de imagen original: 720x576 (625/50)
Velocidad de fotogramas: 25.00
Velocidad de bits: 1.88Mbps

Atributos de audio:
Modo de codificación de audio: Dolby Digital
Velocidad de muestreo: 48kHz
Número de canales de audio: 5.1, 2.0
Velocidad de bits: 448 Kbps, 192 Kbps
Número de secuencias de audio: 5, 2

Dolby Digital 5.1
Dolby Digital 2.0 (con narrador o sin narrador)

Atributo de subimagen:
Número de subtítulos: 5 (Inlgles, frances, español, italiano, alemán)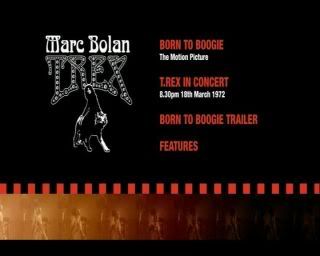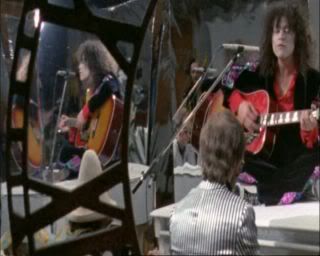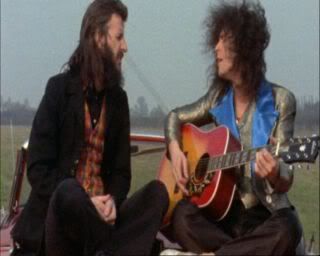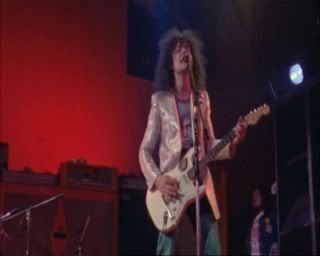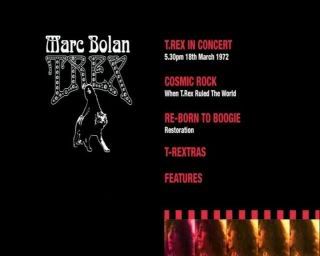 Duración: 02:14:13 + 03:15:31


DVD1:

Marc Bolan. Born to Boogie. The Motion Picture
01. Opening Titles
02. Jeepster
03. Baby Strange
04. "Electric Wind" (poem)
05. Tutti Frutti (Elton, Ringo & T. Rex)
06. Children Of The Revolution (Elton, Ringo & T. Rex)
07. "Look To The Left" (Marc & Ringo)
08. Spaceball Ricochet
09. "Some People Like To Rock" (Marc & Ringo)
10. Telegram Sam
11. "Some People Like To Roll' (Marc & Ringo)
12. Cosmic Dancer
13. "They've Come, This Said"
14. Tea Party Medley (Marc on acoustic & String Quartet)
15. "Union Hall" (poem)
16. Hot Love
17. Get It On
18. Children Of The Revolution - Reprise
19. BBC interview with Marc Bolan from late 1971

T. Rex In Concert 8.30pm, 18th March 1972, Wembley Evening Concert
01. Rosko's Intro
02. Cadilac
03. Jeepster
04. Baby Strange
05. Spaceball Ricochet
06. Girl
07. Cosmic Dancer
08. Telegram Sam
09. Hot Love
10. Get It On
11. Just One More?
12. Summertime Blues
13. Credits

Born To Boogie Original Theatrical Trailer
Extras
http://rapidshare.com/files/373175883/MrBlyTR_BoTBoSE_05_D1_by_rebotes.dlc

http://www.megaupload.com/?d=YFH8664X








DVD2:

T. Rex In Concert 5.30pm, 18th March 1972, Wembley Afternoon Concert
01. Rosko's Intro
02. Cadilac
03. Jeepster
04. Baby Strange
05. Spaceball Ricochet
06. Girl
07. Cosmic Dancer
08. Telegram Sam
09. Hot Love
10. Get It On
11. Just One More?
12. Summertime Blues ?????
http://rapidshare.com/files/373175868/MrBlyTR_BoTBoSE_05_D2_by_rebotes.dlc

http://www.megaupload.com/?d=ZNV49LE8
http://luizwoostock.blogspot.com/2010/05/marc-bolan-hard-rock-glam-rock.html
MARC BOLAN
Birth name Mark Feld
Born 30 September 1947(1947-09-30)
Hackney, East London, England
Died 16 September 1977 (aged 29)
Barnes, London, England
Genres Hard rock, glam rock, psychedelic folk, psychedelic rock, pop rock
Instruments Guitar, vocals, bass, Moog synthesiser, Percussion
Years active 1965–1977
Labels A&M, EMI, Reprise, Mercury
Associated acts T. Rex, John's Children
Notable instruments:
Gibson Les Paul
Marc Bolan, nome artístico de Mark Feld (Londres, 30 de Setembro de 1947 — Londres, 16 de Setembro de 1977) foi um cantor e guitarrista britânico. Ele ficou mundialmente conhecido como o vocalista e guitarrista da banda britânica de glam rock T.Rex.
Filho de um motorista de caminhão, Bolan cresceu no pós-guerra, Hackney, leste de Londres, no seio de uma família judaica, e mais tarde viveu em Wimbledon, sudoeste de Londres. Ele se apaixonou pelo rock and roll através de músicos como Gene Vincent, Eddie Cochran, Arthur Crudup e Chuck Berry. Ainda em tenra idade tornou-se um Mod, passando a freqüentar bares, cafés e pubs. Ele apareceu em um episódio da série de televisão de Orlando como um figurante Mod.
Na idade de nove anos, Bolan recebeu de presente sua primeira guitarra e começou uma banda de skiffle, pouco depois, aos quinze anos, ele deixou a escola "por consentimento mútuo" (foi expulso). Entrou para uma agência de modelos, aparecendo em catálogos de roupas para a lojas de moda masculina, como modelo de ternos, e para os recortes de papelão que eram exibidos nas vitrines das lojas. A revista inglesa "TOWN" o caracterizado como um dos primeiros exemplos do movimento Mod em uma sessão de fotos com um par de outros "rostos".
Marc Feld havia mudado seu nome para Toby Tyler quando conheceu e foi morar com o filho ator Allan Warren, que se tornou seu primeiro agente. Warren viu o potencial de Toby Tyler que passavam horas sentado de pernas cruzadas no chão tocando seu violão. Warren, em seguida, levou-o para o fotógrafo Michael McGrath e encomendou uma série de fotografias, contratou um estúdio de gravação e produziu o primeiro registro de Bolan, uma faixa com a canção "Blowing in the wind" de Bob Dylan. Também uma versão de Betty Everett da canção "You're No Good", que mais tarde foi apresentado à EMI para um teste de audição, mas eles recusaram o então Toby Tyler. Warren mais tarde vendeu o contrato de Marc e suas gravações por £200,00 (duzentas libras) para o seu senhorio, o magnata David Kirch, em troca de três meses de aluguel. Kirch estava muito ocupado com seu império imobiliário para fazer qualquer coisa por Bolan. Um ano depois, a mãe de Marc o empurrou para dentro do escritório de Kirch e gritou com ele dizendo que não tinha feito nada por seu filho. Ela pediu para ele rasgar o contrato e de bom grado, ele rasgou.
As fitas produzidas durante a sessão de gravação de Toby Tyler desapareceram do pensamento e da mente por mais de vinte e cinco anos até ressurgirem em em 1991 e serem vendidas por cerca de oito mil dólares. Sua eventual libertação em CD em 1993 disponibilizou a primeira gravação conhecida Marc Bolan.
Depois de mudar o seu nome novamente para Marc Bolan (via Mark Bowland), enquanto na Decca Records, lançou seu primeiro single, "The Wizard". No início de 1967 seu agente Simon Napier Bell o incluiu no grupo John's Children, que alcançou algum sucesso como uma banda ao vivo, mas vendeu poucos registros. A unica música da John's Children escrito por Marc Bolan, "Desdemona", foi proibido pela BBC porque sua letra tinha o verso polêmico "levante sua saia e [deixe] voar". Seu período com a banda foi breve.
Bolan alegou ter passado tempo com um mago em Paris, que supostamente lhe passou conhecimentos secretos e o pode de levitar. O tempo gasto com ele foi muitas vezes aludido, mas permaneceu "mítico", na realidade, o mago foi provavelmente o ator amerciano Riggs O'Hara, com quem Bolan fez uma viagem a Paris em 1965. Pouco tempo depois, sua composição decolou e ele começou a escrever muitas das neo-canções românticas que iriam aparecer em seu primeiro álbum com o duo de folk rock Tyrannosaurus Rex.
Electric Warrior, seu sexto álbum de estúdio, é largamente considerado como um dos principais lançamentos do glam rock britânico. Alcançou o número trinta e dois nos EUA, enquanto foi o número um por várias semanas no Reino Unido, tornando-se o álbum mais vendido de 1971. Em 2003, foi classificado com o número 160 na Lista dos 500 melhores álbuns de sempre da Revista Rolling Stone.
Após um período de pouca aceitação em meados dos 1970, e o insucesso de critica e venda dos álbuns Tanx e Futuristic Dragon, a banda ressurgiu com o lançamento do disco Dandy in the Underworld de 1977, aclamado pela critica da época. Porém, o final do grupo tornou-se inevitável após a morte de Marc Bolan em um acidente de carro ocorrido em 15 de setembro de 1977.
Discografia
Como Tyrannosaurus Rex
My People Were Fair and Had Sky in Their Hair... But Now They're Content to Wear Stars on Their Brows (1968)
Prophets, Seers & Sages – The Angels of the Ages (1968)
Unicorn (1969)
A Beard of Stars (1970)
Como T. Rex
T. Rex (1970)
Electric Warrior (1971)
The Slider (1972)
Tanx (1973)
Zinc Alloy and the Hidden Riders of Tomorrow (1974)
Bolan's Zip Gun (1975)
Futuristic Dragon (1976)
Dandy in the Underworld (1977)
Legado
Em 1979, Siouxsie and the Banshees lançou um cover "20th Century Boy", como o b-side do single "The Staircase (mistério)".
Em dezembro de 1980, "Telegram Sam" foi o quarto single lançado pela banda de rock gótico britânico Bauhaus. O lado A é um cover da música T. Rex 's com o mesmo nome. Foi lançado em 7 de formato e de 12 polegadas, este último com "Rosegarden Funeral de Feridas", como uma faixa extra. The Bongos foram o primeiro grupo americano para cobrir uma melodia T. Rex, "Mambo Sun" e entrar nas paradas da Billboard. Desde então, o vocalista Richard Bongos Barone gravou várias outras composições de Bolan, está trabalhando com o produtor Tony Visconti para o seu próximo álbum solo e tem-se produzido faixas para o filho Rolan Bolan Bolan.
Em 1981, Department S lançou um cover de "Solid Gold Easy Action", como o b-side do single "Is Vic lá?".
Em 1984, The Replacements lançou um cover de "20th Century Boy" como lado B do single "I Will Dare", que também está incluído na versão de relançamento do álbum Let It Be. Em 1993, Adam Ant (nascido, Stuart Leslie Goddard), a pista coberta ao vivo na edição do disco ao vivo de sua cal Antmusic: The Very Best coleção de Adam Ant.
Em 1985, o Duran Duran lasca banda Power Station, com Robert Palmer como vocalista, teve uma versão de "Get It On" no Top 40 britânico, a primeira capa de uma canção Bolan para entrar nas paradas após sua morte. Eles também tocaram a música (com Michael Des Barres substituindo Palmer), no concerto Live Aid E.U..
Em 1986, os Violent Femmes realizado "Children of the Revolution" em seu terceiro álbum The Blind Leading The Naked, para o qual também gravou um videoclipe.
Em 1990, Baby Ford fez um cover de "Children of the Revolution" que apareceu no álbum Oooh, O Mundo da Baby Ford.
Em 1994, Billy Idol usava uma t-shirt reproduzindo a capa do álbum Slider em seu vídeo de apoio popular a música "Speed". Essa foi uma homenagem clara a Marc Bolan, que ajudou a Geração X para subir no início de sua carreira.
Em 2006, Def Leppard lançou o seu álbum Yeah que contém covers de suas bandas favoritas, enquanto crescia, a primeira música deste álbum é "20th Century Boy". Joe Elliott queria cantar "Metal Guru", enquanto Vivian Campbell queria "Telegram Sam", mas acabam concordando com a "20th Century Boy". Não é a primeira vez que Def Leppard tem cantado uma música T. Rex, existe uma versão ao vivo de Get It On.
"Children of the Revolution" foi igualmente realizada por Elton John e Pete Doherty no Live 8, 20 anos depois. Bono e Gavin Friday cover "Children of the Revolution" em Moulin Rouge! trilha sonora.
Em 2000, Naoki Urasawa criado um mangá intitulado "20th Century Boys", que foi inspirado pela canção de Marc Bolan, o "20th Century Boy". O livro é um vencedor de vários prémios, e acaba de ser lançado nos Estados Unidos através da mídia VIZ.
"20th Century Boy" introduziu uma nova geração de devotos ao trabalho Bolan, em 1991, quando foi apresentado em um comercial de TV jeans Levi's com Brad Pitt, e foi re-lançado, alcançando o Top 20 britânico. A canção foi executada pela banda fictícia The Flaming Creatures (realizado por Placebo, repetiu por Placebo e David Bowie em 1999 durante o BRIT Awards) em 1998 filme Velvet Goldmine. Em cada década desde a sua morte, Bolan colocou uma compilação hits no top 20 álbuns do Reino Unido e impulsiona periódicas nas vendas vêm através versões cover de artistas inspirados por Bolan, incluindo Morrissey e Siouxsie and the Banshees. Da mesma forma, "I Love to Boogie" foi brevemente usada em um anúncio de refrigerante Robinson em 2001, trazendo músicas Bolan para uma nova geração. Mitsubishi também trazia "20th Century Boy" em 2002 um carro comercial, levando Hip-O Records para lançar um CD best-of coleção intitulada 20th Century Boy: The Ultimate Collection.
Sua música ainda é largamente utilizada em filmes, casos recentes notáveis sendo Breakfast on Pluto, Death Proof, Lords of Dogtown, Billy Elliot, Jarhead, Moulin Rouge!, Herbie: Fully Loaded, quebrando-Up, Hot Fuzz, Click & Escola de Rock . Bolan ainda é citada por muitas bandas guitar-centric como uma influência muito grande (Joy Division / Bernard New Order Sumner disse que o primeiro single que possuía era "Ride a White Swan".) No entanto, ele sempre defendeu que era um poeta que ponha letras de música. As músicas nunca foram tão importantes quanto as palavras.
Um legado completo menos bem-vindo para sua família e amigos é a linha contínua sobre a sua fortuna. Bolan tinha arranjado um trust discricionário para proteger o seu dinheiro. Sua morte deixou a fortuna fora do alcance das pessoas mais próximas a ele e sua família e os jornalistas tomaram um interesse ativo em investigar a situação, até agora, com resultado pouco mais do que levar a história para uma maior atenção. Um pequeno fundo separado Jersey-based permitiu que seu filho para receber algum rendimento. No entanto, a maior parte da fortuna de Bolan, diversamente estimado entre £ 20 e £ 30 milhões de libras (aproximadamente US $ 38 - $ 57 milhões), mantém-se na confiança. Em 2007, a família Bolan é suposto ter uma casa paga pela confiança e Rolan é suposto receber um subsídio de.
Bolan voltou ao topo das paradas do Reino Unido em 2005, quando o hit remasterizado, ampliado Born to Boogie DVD No. 1 nas paradas Music DVD.
Steve Kilbey - um confesso fã de Marc Bolan e cantor de renome grupo de art-rock australiana The Church - realizado "Bolan's One Inch Rock" no Kilbey Steve Live DVD, lançado em janeiro de 2008.
Em 2006, foi revelado que o Patrimônio Inglês recusou-se a comissão de uma placa azul para comemorar Bolan, pois ele acreditava ser de "baixa estatura insuficiente ou significado histórico". Há, no entanto, uma placa dedicada à existente na Bolan sua casa de infância, lá colocadas por Hackney Conselho.
Há também duas placas dedicado a sua memória em Golders Green Crematorium no norte de Londres. O segundo a ser exibido foi colocado lá pelo fã clube oficial de Marc Bolan e outros fãs, em setembro de 2002, para comemorar o 25 º aniversário de sua morte. A inscrição na pedra, que também tem sua imagem, lê «25 anos - a sua luz do amor ainda brilha. Colocado sob a placa não é uma figura de cerâmica adequados de um cisne branco.
Em 2006, a série de TV Life on Mars, o ator interpreta Marc Bolan, circa 1973, em um bar em Manchester. Tempo de viajar Sam Tyler reconhece ele, tem um momento menino fã, e avisa para ter cuidado de andar em Minis. Na versão americana da série, o personagem é substituída pela de Jim Croce, que morreu mais tarde naquele ano em um acidente de avião, e Sam avisa. No entanto, o T. Rex versão de "Get It On" é jogado no clube de dança de Nova York nessa cena.
Uma das guitarras Bolan, uma Gibson Flying V, recentemente apareceu na Antiques Roadshow nas mãos de um colecionador particular. O avaliador estimou o valor da guitarra ser de aproximadamente $ 50.000-60.000.
A escola é planejado em sua homenagem, a ser construído em Serra Leoa: O Marc Bolan Escola de Música e Cinema.