By Jamie McCarthy, WireImage

4/14/2011
Elton John - Live at BBC Radio 2 Electric Proms 2010 (DVD5/Proshot Broadcast)
Elton John - Live at BBC Radio 2 Electric Proms 2010
Setlist:
1.Intro
2.Burn Down The Mission
3.Tiny Dancer
4.A Song for You
5.Monkey Suit
6.When Love Is Dying
7.Sad Songs Say So Much
8.This Masquerade
9.Gone To Shiloh
10.A Dream Come True
11.Your Song
12.The Bitch is Back
13.Hey Ahab
DVD authoring By Deer5001
DVD5 Size : 2.37 GB
Media : Proshot Broadcast
Menu/Chapters : Yes/Yes
Duration : 01h05mn45s

Video Format : NTSC/16:9
Frame rate : 29.970 fps
Width : 720 pixels
Height : 480 pixels

Audio Format : AC3
Bit rate : 448 Kbps
Channels (s) : 2 Channels
Sampling rate : 48.0 Khz

DVD Cover Front/CD High Quality included

links Download,FileSonic & FileFactory 12 Part

(Part1-11=200 MB,Part12=27.3 MB)

DOWNLOAD:

http://www.filefactory.com/f/2647fec8929dd834/

or

http://www.filesonic.com/folder/3743241



David Furnish and Elton John coordinate
Elton John and husband David Furnish wear matching suits as they leave their New York hotel






April 15, 2011
Sir Elton John
and
Sting
took to the stage in New York on Thursday night (14Apr11) to raise money for a breast cancer charity.

The British superstars both performed at the annual Hot Pink Party at The Waldorf Astoria hotel in Manhattan in aid of the Breast Cancer Research Foundation.

During the show, which was attended by stars including Elizabeth Hurley, model Carolyn Murphy and young actress Abigail Breslin, Sting thrilled ladies in the crowd by inviting them up onto the stage to dance with him.

The event raised more than $4 million for charity.
Festival d'été de Québec : La participation d'Elton John est confirmée
http://www.radio-canada.ca/nouvelles/arts_et_spectacles/2011/04/14/006-elton-john-confirme.shtml
Mise à jour le vendredi 15 avril 2011 à 8 h 48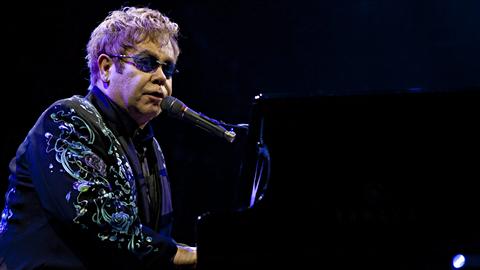 Photo: La Presse Canadienne /AP Photo/Joel Ryan
Elton John en spectacle à Londres, en janvier 2011
C'est confirmé : Elton John se produira sur les plaines d'Abraham le 9 juillet prochain, dans le cadre du Festival d'été de Québec.
Les organisateurs en ont fait l'annonce jeudi, après avoir tergiversé durant 24 heures. L'information avait été divulguée sur le fil de nouvelles du festival, avant d'être retirée. Il semble que l'agent d'Elton John ait pris plus de temps que prévu avant d'approuver le communiqué.
L'auteur-compositeur-interprète et pianiste de 64 ans fera un aller-retour en Amérique pour se produire à Québec, puisqu'il sera en tournée européenne cet été.
Sir John, à qui l'on doit notamment
Goodbye Yellow Brick Road
,
Rocket Man
et
Candle in the Wind
et
Nikita
, ne s'est pas arrêté dans la capitale nationale depuis une décennie. En 2001, il avait attiré près de 10 000 admirateurs au Colisée.
« Tout le monde a en tête une chanson d'Elton John. Et plusieurs ont des souvenirs qui s'y rattachent. Il ne fait pas de doute dans notre esprit que ce concert sera un des grands moments du festival », a affirmé la directrice de la programmation, Dominique Goulet, par communiqué.
Le nom d'Elton John s'ajoute à la mince liste des vedettes dont la participation est déjà confirmée au Festival d'été de Québec. Black Keys, Cage The Elephant et Girl Talk se produiront sur les plaines le 10 juillet. Le chanteur français Thomas Fersen sera à la Place d'Youville, le 17.
La programmation complète du Festival d'été de Québec sera dévoilée le 27 avril prochain. L'évènement se déroulera du 7 au 17 juillet.
A BARBARA WALTERS EXCLUSIVE: ELTON JOHN AND DAVID FURNISH
http://blogs.abcnews.com/pressroom/2011/04/-a-barbara-walters-exclusive-elton-john-and-david-furnish-.html
April 15, 2011 4:22 PM
Proud Fathers Sit Down Exclusively With Barbara Walters In Their First Major US Television Appearance Since Son Was Born, Airing on "20/20," Friday, April 22, 10 pm on ABC
Elton John
and his partner
David Furnish
will sit down with
Barbara Walters
for their first major US Television interview since the birth of their son Zachary this past Christmas. In the interview, John and Furnish will discuss why they wanted a child, how they kept the baby a huge secret until he was born and how fatherhood has changed them both. They will also introduce Walters to Zachary, their four and a half month old son. John will also reveal details of his latest project. The exclusive interview will air on
"20/20,"
FRIDAY, APRIL 22 (10:00 – 11:00 p.m. ET) on the ABC Television Network
.
Britney claims a record only held by Elton and Elvis!!!!
http://forums.gametrailers.com/thread/britney-claims-a-record-only-h/1197884
Posted: Wed Apr 6, 2011 11:32 pm
Britney's latest album, Femme Fatale, debuted at #1 in the U.S. Billboard!

Femme Fatale is Britney's 6th #1 album before turning 30. A record that was only held by the legends: Elton John and Elvis Presley.

The album itself is not good, not even decent. It's the most horrible album I have ever purchased in my life! The tracks in the album are twice and some are three times as repetitive as Ke$ha's Tik Tok...I'm OK with repetitive POP, but Britney's songwriters just didn't do it for me.
Britney's latest album, Femme Fatale, debuted at #1 in the U.S. Billboard! Femme Fatale is Britney's 6th #1 album before turning 30. A record that was only held by the legends: Elton John and Elvis Presley. The album itself is not good, not even decent. It's the most horrible album I have ever purchased in my life! The tracks in the album are twice and some are three times as repetitive as Ke$ha's Tik Tok...I'm OK with repetitive POP, but Britney's songwriters just didn't do it for me.
ELTON JOHN come and get it
Sir Elton versionando dos clasicos ,el tema de Paul del 69 que badfinger llevo a lo alto de las listas y Lady D´arbanville de Cat Stevens .
DOWNLOAD
http://www.4shared.com/file/NoDXStSY/elton_come_and_get_it.html
x
Elton John to play on the Plains of Abraham
http://www.metronews.ca/halifax/scene/article/832931--elton-john-to-play-on-the-plains-of-abraham
QUEBEC - Elton John is about to become the next musical superstar to strut his stuff on the Plains of Abraham.
The 64-year-old John will appear at the Quebec City landmark July 9 as part of the city's annual summer festival.
The Rocket Man's show comes three years after Paul McCartney and Celine Dion gave separate shows on the Plains to commemorate the 400th anniversary of the founding of Quebec City.
The weekend of John's show promises to be a huge one for music fans in Quebec. Irish rockers U2 will be playing at the Montreal Hippodrome on both July 8 and 9.
http://perezhilton.com/2011-04-15-track-list-announced-for-upcoming-william-shatner-space-themed-heavy-metal-album
Filed under:
Music Minute
>
Elton John
>
William Shatner

Last month, we were very excited to hear about William Shatner's upcoming space-themed heavy metal
album Searching For Major Tom.
Now, the track list has been released, and we're pret-ty impressed with his selection of covers.
Some of the highlights include covers of Elton John's Rocket Man, David Bowie's
Space Oddity, Queen's Bohemian Rhapsody, and Black Sabbath's
Iron
Man
.
Check out the full list of tracks from Shatner's new album AFTER THE JUMP!
[Image via WENN.]

Space Trucking Originally By Deep Purple - Deep Purple Drummer Ian Paice Has Performed The Drum Part. Johnny Winter Is On Guest Guitar.
She Blinded Me With Science Originally By Thomas Dolby - Bootsy Collins Is On As The Guest Bassist. Patrick Moraz (Ex Yes And Moody Blues
) Is Guesting On Keyboards/Synth.
In A Little While Originally By U2 - Manuel Gottsching From Ash Ra Tempel Has Added Guitar.
Empty Glass Originally By The Tea Party - Michael Schenker (UFO/Scorpions) Has Added Guest Guitar.
Lost In The Stars As Done By Frank Sinatra - Jazz Legend Ernie Watts Is On Guest Saxophone.
Twilight Zone Originally By Golden Earring - Warren Haynes (Gov't Mule/Allman Brothers) Is On Guest Guitar.
Space Cowboy Originally By Steve Miller - Country Artist Brad Paisley Has Added Guitar And Vocals.
Rocket Man Originally By Elton John - Guitarist Steve Hillage (Ex Gong Member And Current Member Of Techno Rock Duo System 7) Has Added Guest Guitar
Space Oddity Originally By David Bowie - Ritchie Blackmore (Ex-Deep Purple) Has Added Guest Guitar. Alan Parsons Is Adding Guest Keyboards.
Spirit In The Sky Originally By Norman Greenbaum - Peter Frampton Has Played Guitar On This Track.
Bohemian Rhapsody Originally By Queen - John Wetton From Asia Has Played Bass And Done A Vocal.
Silver Machine Originally By Hawkwind - Wayne Kramer From The MC5 Is Adding Guitar And Carmine Appice (Vanilla Fudge/Rod Stewart) Is Adding A Guest Drum Part.
Major Tom Originally By Peter Shilling - Nick Valensi, The Guitarist From The Strokes Has Added Guest Guitar To This This Track. Also Zakk Wylde (Ozzy Osbourne, Black Label Society) And Mike Inez (Alice In Chains)Have Contributed To This Track.
Learning To Fly Originally By Pink Floyd - Edgar Froese From Tangerine Dream Has Played Guitar And Keyboards On This Track.
Mr. Spaceman Originally By The Byrds - Dave Davies From The Kinks Has Added Guest Guitar On This Track.
Iron Man Originally By Black Sabbath - Zakk Wylde (Ex Ozzy Guitarist) Played Guitar And Did A Vocal On This Track.
Planet Earth Originally By Duran Duran - Steve Howe, Guitarist With Yes, Played Guitar On This Track.
Walking On The Moon Originally By The Police - Toots Of Toots & The Maytals Has Added A Guest Vocal.
Mrs. Major Tom - Female Singer To Add A Track - To Be Announced
http://www.webbot.us/new-chopard-elton-john-watch-simply-looks.aspx
Chopard is displaying another luxurious timepiece from their Chopard Elton John Watch Collection. Just like the previews watch that they have presented, this new version will also attract many watch enthusiasts especially those who have taste for luxuriousness.This new Chopard Elton John Watch simply looks like the previous version that we have
ladies cerix
featured here except for the theme and materials that they've used. The case of this watch is made of an elegant 18 carat white gold material which they decorated with diamond embellishments. The bezel of this timepiece is also made with the same material but instead of including simple diamonds, they have used black diamond setting which gives it a very stunning look.This timepiece is also made with a mother of the pearl dial highlighted in green and gray and is accented with small sized black diamond embellishments for a more luxurious look. Aside from its luxurious design, this watch is also functional with its small seconds counter, and 12- hour and 60 -minute counters.This new Chopard Elton John Watch is a luxurious timepiece that will be available in limited edition of 2000 pieces. This watch will also include Elton John's signature on the case back.
We all know that Seiko is not known for being luxurious but for the past days or weeks, they have also shown that they can compete with the other brands' luxurious watches through their new Seiko Premier Collection.Seiko has been making stylish and functional timepieces that were loved by many watch enthusiasts but this new Seiko Premier Collection will definitely
ladies watch givenchy
be loved more because of the luxuriousness that it brings. An example of this is the Seiko Premier Women's watch shown on the above image.This timepiece is crafted from a polished stainless steel material and matched with a black leather strap for that classy look. What make this watch luxurious are the diamond settings that are found on its bezel which also gives it a very irresistible look. Aside from the bezel, these diamond settings can also be found on its white dial serving as hour markers.If you are looking for a classy, stylish, and luxurious timepieces, this Seiko Premier Women's Watch is definitely made just for you so grab it now.
Most expensive luxury watches chopard elton john watches
In honor of 10 years' anniversary of
Chopard
's support of the the
Elton John
AIDS Foundation, Caroline Gruosi-Scheufele in collaboration with Sir Elton John created a new
luxury watches
collection. New
most expensive watch
collection joins together the finest of the jewelry and watchmaking crafts and perfectly describes singer's personality. "It's wonderful to be producing another Chopard watch edition with a royalty from each sale going to support the work of the Elton John AIDS Foundation", commented Sir Elton John, known also as watch and jewelry collector.
Chopard-Elton John watches
are featuring black, brown or pink crocodile leather straps, studded with a myriad of the precious gems - yellow, pink or black
diamonds
,
sapphires
,
rubies
and
emeralds
. The dial comes either in a tone matching the gems set around it or in a white or grey-rosé mother-of-pearl version. The case also comes in plain white or rose gold variations.
Luxury watches
have a limited edition of 2000 pieces. Back case is engraved with Elton John signature. Some proceeds from the sale of Elton John watch collection will be donated to the fight against AIDS.
Tags: most expensive luxury watches, luxury goods
Via
:
chopard
/
worldtempus
http://watches.infoniac.com/new-chopard-elton-john-watch-collection-moscow.html
On
December 8th
,
Chopard
unveiled their
new Elton John watch collection
. The event took place in luxurious
Barvikha Luxury Village in Moscow
.
To celebrate the introduction of the colorful watch collection,
Sir Elton John
gave an exclusive private concert. The singer and Chopard co-president
Caroline Gruosi-Scheufele
are united by a long-time friendship based on their remarkable artistic creativity and mutual desire to support charity causes.
Barvikha Luxury village, one of the most exclusive neighbourhoods of the Moscow city, welcomed the guests by an
elegant setting
, reflecting an English Tea Party theme along with rose bouquets, small English cakes, and canapés. The small village welcomes its visitors to luxury hotels, boutiques, restaurants, and a concert hall for 750 guests, furnished with top quality technical equipment.
Before the concert, the VIP guests and celebrities were invited to a
chic candlelit cocktail party
, with every detail carefully thought over to match the singer's taste and style. All the guests witnessed the new interpretation of the Chopard watch collection.
Sir Elton John's concert
lasted for two hours and the singer performed his best hits. The artist was wearing Chopard diamonds and the new
luxurious Chopard Elton John Chronograph
set with baguette diamonds. The timepiece was presented to Sir Elton John by Caroline Gruosi-Scheufele. It is not a secret that the singer is a big fan of the true king of gems, so he immediately fell in love with the new timepiece.
The
new Chopard Elton John watch collection
reveals a range of highly original chronograph watches crafted in 18-K gold. The timepieces are richly set with diamonds and a variety of other precious stones.
Every new
Chopard
Elton John watch collection has enjoyed outstanding success. The new chronograph is characterized by clear-cut, modern and powerful lines, a symbol of Sir Elton John's generous personality, his innate taste and style.
A part from the proceeds of every timepiece sold will be given to support the charitable work carried out by the
Elton John AIDS Foundation
.
Industry News - Elton John & Chopard Celebrate 10th Anniversary
http://www.timezone.com/library/news/news631926746019062500
For the fifth consecutive year, Sir Elton John opened his beautiful Windsor estate for London`s party of the year, the now world famous White Tie & Tiara Ball, sponsored by luxury Swiss jeweler Chopard.
Proceeds from the gala benefit the Elton John AIDS Foundation.
Amongst the guests present were Donna Summer and Barry Manilow who delighted the guests with their music.