Elton John Pays Tribute to Elizabeth Taylor
http://www.people.com/people/package/article/0,,20261725_20475691,00.html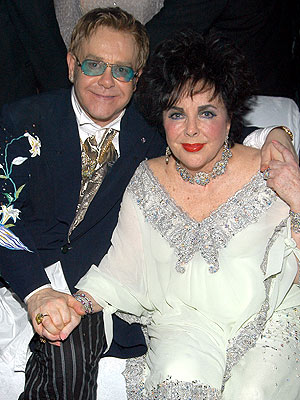 A close friend and a longtime partner in AIDS activism, Elton John is mourning the
death
of Elizabeth Taylor.
"We have just lost a Hollywood giant," the singer, 63, says. "More importantly, we have lost an incredible human being."
Hospitalized for more than a month with complications from congestive heart failure, Taylor died at age 79 early Wednesday morning surrounded by her children.
Elton John on Elizabeth Taylor's Death: "We Have Lost An Incredible Human Being"
March 23rd, 2011 3:30 pm / Author: Nicole Eggenberger
http://www.okmagazine.com/2011/03/elton-john-on-elizabeth-taylors-death-we-have-lost-an-incredible-human-being/
Sir Elton John
,
David Furnish
and everyone at the Elton John AIDS Foundation is mourning the loss of actress and HIV/AIDS activist
Elizabeth Taylor
.
OK! GALLERY: CELEBRATING ELIZABETH TAYLOR — A LIFE IN PICTURES
"We have just lost a Hollywood giant, but more importantly we have lost an incredible human being," Elton said in a statement. "Elizabeth Taylor earned her fame with her extraordinary talent as a young actress, making her first movie at the tender age of nine. She earned our adoration for her stunning beauty and for being the very essence of glamorous movie stardom. And she earned our enduring love and respect for her compassion and her courage in standing up and speaking out about AIDS when others preferred to bury their heads in the sand."
And David, the Chairman of Elton John Aids Foundation, expressed the same love for Elizabeth.
"In the early days of the AIDS epidemic, Elizabeth Taylor was a force of nature," he added in a statement. "She compelled people to listen, made them respond, and urged them to act. She gave comfort to the dying, roundly condemned the stigma associated with AIDS, and was fiercely critical of the government's sluggish, reluctant response to the epidemic."
OK! NEWS: ELIZABETH TAYLOR'S DEATH MOURNED BY KIM KARDASHIAN — "SHE WILL ALWAYS BE MY IDOL"
Elizabeth founded the National AIDS Research Foundation in the early 1980s and joined with Dr. Mathilde Krim's AIDS Medical Foundation in 1985, which later became amfAR, The Foundation for AIDS Research.
"Elizabeth Taylor has inspired every one of us and many millions of others around the world," Executive Director Scott Campbell of EJAF also said in a statement. "She has shown us the meaning of courage and moral responsibility in the face of injustice and bigotry. We join our colleagues at amfAR in mourning the loss of an extraordinary leader in the fight against AIDS."
Elton John's yellow brick road to Pittsburgh


Wednesday, March 23, 2011
If you have a ticket for the concert tonight at the Consol Energy Center, you're going to see the greatest male solo artist of all time.
That's a purely numerical assessment according to a Billboard magazine list in 2008, based on Elton John's popularity on the singles charts. On the all-time artists list, he was third overall to the Beatles and Madonna.
It's been an illustrious, sometimes turbulent 40-year-plus Hall-of-Fame career with a whopping 250 million records sold, 50 Top 40 hits, six Grammys, an Oscar, a Golden Globe and a Tony.
And yet, when we think of Sir Elton, when we hear him on the radio, sing along to his signature hits, what we're celebrating for the most part are the five or six years of his career from his self-titled second album in 1970 to his ninth album, "Captain Fantastic and the Brown Dirt Cowboy," in 1975.
In between, he had one of the finest runs in rock history with "Tumbleweed Connection" (1970), "Madman Across the Water" (1971), "Honky Chateau" (1972), "Don't Shoot Me I'm Only the Piano Player" (1973), "Goodbye Yellow Brick Road" (1973) and "Caribou" (1974).
This was the era that produced "Your Song," "Levon," "Rocket Man," "Daniel," "Saturday Night's All Right for Fighting," and "Bennie and the Jets," not to mention one song that would become a No. 1 single a quarter-century later, "Candle in the Wind." These are still the songs that bring an Elton John concert to its climax.
If these were Elton's peak years, Pittsburgh didn't get to experience much of it firsthand. He performed his first American concert at the famed Troubadour in LA in August 1970, introduced by Neil Diamond, a few months before he scored his first hit with "Your Song." The crowd assembled at the Troubadour also got songs like "Take Me to the Pilot," "Border Song" and "Burn Down the Mission," which would end up on "Tumbleweed" in October.
That small 29-date U.S. tour in 1970 came as close as Cleveland's Music Hall, and he returned to Cleveland as part of a spring tour of more than 40 dates in 1971.
Still no Pittsburgh show.
The year Elton John broke to the masses was 1972 with "Honky Chateau." He had a minor hit with "Levon" (No. 24) in January and then shot up to No. 6 in May with "Rocket Man," a song very much in the vein of "Space Oddity," his glammy British counterpart David Bowie's breakout hit in 1969. Robert Christgau, the dean of rock critics, wrote of "Honky Chateau" that "John is here transmuted from dangerous poseur to likable pro."
In the summer of '72, kids were carrying around their Panasonic transistors listening to "Rocket Man" and "Honky Cat" and doing the "Crocodile Rock" around Christmas. In the spring of '72 he did Dayton and Columbus and in the fall he was in Buffalo and even Harrisburg.
STILL no Pittsburgh show.
"He didn't come right away," recalls Pat DiCesare, who was the city's leading concert promoter at the time. "They wanted to be an arena act. I didn't think he could do that kind of business at first. Eventually I had to play it."
First show here in 1973
Elton finally set foot in Pittsburgh on Oct. 9, 1973, at the Civic Arena, with opening acts the Sutherland Brothers and Quiver. In some ways, the timing was great. It was six days after he released what is arguably the best album of his career, the two-record set "Goodbye Yellow Brick Road."
The Pittsburgh Press review of the concert opened with "Elton John is the greatest piano showman in the world" -- high praise, even though at the time, the competition among piano showmen was lean.
Elton arrived in a "shiny silver suit with his name across the chest in luminescent letters," his piano draped in fuchsia with Christmas lighting, and "pounded the keyboard like Jerry Lee Lewis." The review noted that the 26-year-old "loves to applaud himself and gambol across the stage like a mod faun" (haha!). It goes on to say that he played two new songs from "Yellow Brick Road" and politely thanked the crowd for listening. "Madman Across the Water" was a "rock rhapsody" and "Crocodile Rock" and "Saturday Night" closed the show.
Elton John in Pittsburgh
1. Civic Arena, Oct. 9, 1973
2. Civic Arena, Nov. 12, 1974 (with Kiki Dee)
3. Civic Arena, Oct. 18, 1984 (farewell tour)
4. Civic Arena, Sept. 19, 1989
5. Star Lake Amphitheater, Sept. 13, 1992
6. Civic Arena, April 23, 1993
7. Three Rivers Stadium, Aug. 2, 1994 (with Billy Joel)
8. Star Lake Amphitheater, Aug. 9, 1995
9. Star Lake Amphitheater, June 11, 1999
10. Mellon Arena, March 7, 2003 (with Billy Joel)
11. Mellon Arena, Oct. 6, 2006
12. Consol Energy Center, March 23, 2011
"I've never seen a crowd as frenzied as they were last night over Elton John," the Press critic raved, saying the 14,000 fans were jumping on the seats. According to Mr. DiCesare's records, the crowd was actually 7,100 and that at $5 per ticket the concert grossed $35,128.
The Post-Gazette critic noted in December that the two best shows of the year were Elton John and Liza Minnelli -- birds of a feather, to be sure.
With his outlandish costumes and sunglasses, Elton was taking Mick Jagger's androgyny to the next level and was clearly the more flamboyant star of the era. It must not have come as a big surprise when he told Rolling Stone in 1976 that he was bisexual, a rare admission for a rock star in those days. Still, he was very much embraced right along with the hard rockers on FM radio.
"We never thought much about the 'sexual issues' that Elton may have had because we were big fans," says longtime WDVE deejay Sean McDowell. "Plus, back then, we were also Bowie fans and he was pretty bizarre even for that era. And Robert Plant and Mick Jagger both had some fairly 'feminine' body language on stage, and we loved them, too. I remember being very much into the music back then, not the TMZ mindset of today, where someone's sexuality or personal background becomes a question. We were just really into the music back then, and smoking a lot of pot, too -- 1970-1974, our 'age of innocence!' "
Amazingly, by today's standards, in June 1974, he released "Caribou," his third album in 18 months, adding to the canon one of his rowdiest rockers, "The Bitch Is Back," and warmest ballads, "Don't Let the Sun Go Down on Me."
When he came back for his second Arena show on Nov. 12, 1974, the crowd had more than doubled, to 15,040 (a $94,101 gross). For that tour, he brought opener Kiki Dee, with whom he would share the No. 1 smash "Don't Go Breaking My Heart" two years later.
Little did anyone know it would be the last time he would touch down here in a decade.
"Rock of the Westies," which saw the departure of two of his longtime band members -- drummer Nigel Olsson and bass player Dee Murray -- wasn't as warmly received as the previous albums and only scored one hit, "Island Girl."
He recovered quickly with the single "Don't Go Breaking My Heart," but when he released "Blue Moves" in 1976, continuing a move toward the adult contemporary scene, he declared it would be his last record. He also announced at a live show in late 1977, to the surprise of even his manager, that his touring days were over.
Elvis waited seven years. Elton waited less than two. He was back at it hot and heavy in 1979, becoming one of the first major pop stars to invade the Soviet Union.
Five years later, after a handful of forgettable albums, he re-announced his retirement, claiming that the Breaking Hearts Tour, which played the Arena in October 1984, was also his Farewell Tour.
That promise didn't last long either. He pitched in for Live Aid the following July and was touring again by the fall. He returned to the Arena in September 1989 and made his Star Lake Amphitheater debut in September 1992, starting a four-year consecutive run of shows here.
One of those was his biggest show ever here, the Face to Face tour with fellow piano man Billy Joel at Three Rivers Stadium in August 1994, coinciding with Elton's new smash hit "Can You Feel the Love Tonight" from "The Lion King."
A British gentleman
"When Elton and Billy came to Three Rivers," then-promoter Rich Engler recalls, "Billy had his problems, as we all know, and they were severe at that time, and Elton was the pillar on that whole tour. [Backstage], Billy was all wound up. He was freaking out over an article in City Paper that said they were charging too much for tickets and calling them thieves. Billy was freaked out over it. Elton tried to settle him down, and I tried to settle him down and he was totally frantic. Even on stage, Billy comes out, running to the microphone, and doesn't he have the magazine in his hand. Elton came over and again had to get him settled down. You could see Elton was rolling his eyes, like, 'Come on, get it together!'
"Elton's a real British gentleman," Mr. Engler adds. "Very well spoken, polite, gentle, not real talkative, but not standoffish either."
Elton and Billy would do it again in 2003 at the Arena (although now the relationship is a bit cracked). In between, Elton pulled out another first -- a solo piano tour where he conquered on both the ballads and rockers.
For a good chunk of the past decade, he took his talents to the Las Vegas Strip, switching off with Celine Dion at Caesars Palace.
His concert tonight -- his 12th in the Pittsburgh area and first in five years (and still with Nigel Olsson and Davey Johnstone) -- finds him as active as ever. Last fall he released the acclaimed album "The Union," a collaboration with another,
earlier
piano man, Leon Russell. He's been equally embraced by the younger generation. There was the Grammy duet with Lady Gaga (as he'd done with Eminem), and he turns up on the single "All of the Lights" by Kanye West, whom he calls a "wild genius."
In that same 1976 Rolling Stone interview, Elton had commented, "Who wants to be a 45-year-old entertainer in Las Vegas like Elvis?"
Of course, the perception of aging pop stars has softened drastically. Nonetheless, Elton John, who turns 64 on Friday, seems to be doing it right.
http://www.rendezwho.com/blog/?p=488
Who's up for seeing the "Rocket Man" this Friday night? If for some reason you won't be able to make it to the Rendezwho dinner at Percy Street Barbecue, Elton John will be rocking out at the Wells Fargo Center at 8PM this Friday night. Tickets are still available on
StubHub
(prices ranging from $33 – 188).
The Wells Fargo Center is located at 3601 S. Broad St., Philadelphia PA 19148.
Can Elton John still deliver the kind of spectacles he used to?
http://weblogs.baltimoresun.com/entertainment/midnight_sun/blog/2011/03/first_time_you_saw_elton_john.html
Elton John will perform at
1st Mariner Arena
this Saturday. It'll be 40 years after he first performed in the city, at the Mill Run Theatre, on his first American tour.
Since then, he's performed
scores of times
in the area, most recently
two years ago
in Washington with Billy Joel. But the last time he played Baltimore proper was in 1999.
On tour
lately
he's been performing his greatest hits, but also selections from his excellent collaboration with Leon Russell, "The Union."
The album, a mix of boogie-woogie flourishes, blues, and classic rock, finds Elton showing off the kind of swagger he hasn't in years.
In songs like "
Hey Ahab
" his writing is playful and clever, and his performance is as euphoric as the Elton of old. Elton and Leon, by the way, will
perform
together on Saturday Night Live later this year. Fingers already crossed for an Elton-Stefon pairing.
"The Union," which includes vocal cameos by contemporaries like Neil Young and Brian Wilson, was nominated for a Grammy earlier this year, but lost to, ugh, another Herbie Hancock record.
Still, those who've seen Elton in concert say anyway that's where he's in his element, donning the kind of get-ups that would make Kylie Minogue blanch. While reporting a story about 1st Mariner Arena's 50th anniversary, Chris Kaltenbach talked to Pat O'Malley, a former sports reporter for the Sun, who recalled seeing the singer in the early 70s.
"He started yelling back at security," O'Malley said. "He told security to get out of the way, and they did. The next thing you know, he did 'Saturday Night's Alright for Fighting,' and there were a couple hundred fans up on the stage…It was wild — really wild."
Can Elton still deliver those kinds of spectacles? When was the first time you saw him in concert and what was the experience like? Will he change the lyrics to "Candle in the Wind" again to honor Liz Taylor?
Photo: Elton John and Billy Joel performing in Washington in 2009