Elton John starts 3-year Las Vegas run at Caesars
http://news.yahoo.com/elton-john-starts-3-las-vegas-run-caesars-204941947.html
By
OSKAR GARCIA - Associated Press
|
AP
– 2 hrs 47 mins ago
LAS VEGAS (AP) —
Elton John
is returning to
Las Vegas
for a three-year headlining gig at
Caesars Palace
.
The five-time Grammy winner was set to perform Wednesday night for the first of 16 shows scheduled through October, the first performances of a new show titled "The Million Dollar Piano."
The remainder of the shows during the three-year run have not yet been announced.
John says it's named for the instrument he'll play during the show — a piano that took manufacturer Yamaha four years to build.
"It's going to surprise a lot of people,"
John
said of the instrument earlier this year as the show was announced.
"This isn't like the old days," John said of the new show. "It's going to be certainly different from anything you've seen from me before, as was 'The Red Piano,'" his previous show at Caesars.
His return comes more than two years after that five-year stint that ended in 2009. The run was originally planned for three years but was extended because of demand.
"The Red Piano" included risque imagery — with high-tech videos and large, inflatable props — plus the hits John has become known for during a career that's spanned more than 40 years.
Jason Gastwirth, senior vice president of entertainment for casino owner
Caesars Entertainment Corp.
, believes John's run could be extended again.
"I think it's very possible, both on duration and number of shows," Gastwirth said. "There's been such a large appetite by his fans to come see the show."
John is one of music's most decorated stars, known for songs including "Candle in the Wind," ''Rocket Man" and "Bennie and the Jets." He was knighted by Queen Elizabeth II in 1998, inducted into the Rock and Roll Hall of Fame in 1999 and honored by the Kennedy Center in 2004 for his lifetime contributions to performing arts.
John won an Academy Award in 1994 for his original song, "Can You Feel the Love Tonight," from Disney's "The Lion King."
ELTON JOHN - Las Vegas show "Million Dollar Piano" program
http://www.ebay.co.uk/itm/ELTON-JOHN-Las-Vegas-show-Million-Dollar-Piano-program-/130581984243?pt=LH_DefaultDomain_0&hash=item1e674af3f3
22 Settembre 2011 ore 14:20 |
Torino
THE ROCKET MEN. Tributo Elton John sabato 24 settembre Pub Trattoria Del Cavalcavia Collegno
http://www.newspettacolo.com/piemonte/news/musica/41407_the-rocket-men-tributo-elton-john-sabato-24-settembre-pub-trattoria-del-cavalcavia-collegno.html
The Rocket Men sono la concretizzazione di un'idea, nata ormai 19 anni fa, quando Alex Cordero decide di imparare a suonare il pianoforte, dopo aver ascoltato e consumato la cassetta di "Reg Strikes Back". Dopo aver pigiato tasti in ogni forma, situazione e genere musicale, finalmente trova il coraggio di infilarsi un paio di occhiali da sole oversize, per tentare l'avventura della prima Elton John Tribute Band in Piemonte!
The Rocket Men propongono uno show energico e divertente
, basato sui grandi successi del Sir di tutte le epoche musicali, dai tempi di "Elton John" a quelli di "The One" e oltre, coinvolgendo e attirando sia chi vuole ascoltare e vedere, sia chi vuole ballare
Pub Trattoria Del Cavalcavia
Via Lombroso 14
Collegno
Tel. 011.4143989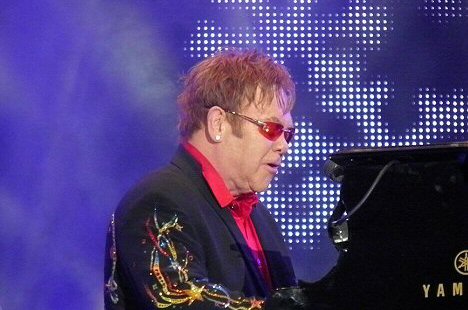 Paperback - A Conversation with Elton John and Bernie Taupin
http://toronto.kijiji.ca/c-buy-and-sell-books-Paperback-A-Conversation-with-Elton-John-and-Bernie-Taupin-W0QQAdIdZ316965249